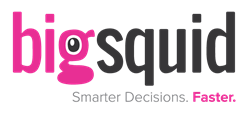 We are excited to bring the power of predictive machine learning and AI to the Qlik customer base
SALT LAKE CITY (PRWEB) April 18, 2018
Big Squid, Inc - the leading automated machine learning and predictive analytics platform, is pleased to announce its strategic partnership with Qlik®, a leading data analytics platform focused on data transformation in the analytics economy.
The partnership combines the power of Machine Learning/ AI from Big Squid's Kraken Platform with the power of Qlik Sense®. Together these technologies will allow Qlik users to add predictive models to their current analytics processes, creating a deeper and more strategic dialogue from their data to impact go-to-market initiatives.
By partnering with Qlik, Big Squid will continue to maximize the investment organizations have already made with their data analytics technology while allowing their analytics and data science teams to create greater scale.
"We are excited to bring the power of predictive machine learning and AI to the Qlik customer base," said Mark Dillon, Senior Vice President of Strategy and Alliances for Big Squid. "By leveraging the Kraken platform Qlik customers will be able to help drive more strategic decisions based on their internal and external data for market impact."
Big Squid built Kraken, an automated machine learning platform, to automate the process of selecting the right family of algorithms, as well as scoring the various models produced with your data, all within your existing data and analytics tech stack.
"We're excited to have Big Squid join us at this year's Qonnections conference as we enter into this partnership," said Drew Clarke, SVP – Office of Strategy Management at Qlik. "We look forward to the benefit customers will derive through the upcoming integration with Big Squid's Kraken to add deeper intelligence to their analytics insights."
Through Big Squid's self-service machine learning platform, Kraken, Qlik customers will now be able to extend their data insights into future trends. This moves users beyond data analytics to a more strategic and collaborative state where they can take action on predictive and prescriptive forecasts.
Big Squid is pleased to announce their platinum sponsorship of Qlik's annual worldwide user conference Qonnections in Orlando, FL April 23-26, 2018. Nick Magnuson, VP of Product at Big Squid, will be leading a session with specific use cases of how Qlik customers can extend the value of their data with machine learning.
"Qlik has a first-rate analytics platform, diverse partner community, and established, progressive user base. For these reasons and many more we're extremely excited to partner with Qlik to offer automated machine learning, fully integrated into the Qlik platform. Our software empowers analysts to become citizen data scientists," said Nick Magnuson, VP Product at Big Squid. "It affords machine learning at scale while leveraging the benefits of pre-existing analytics tools within an organization. I can't wait to share a glimpse of this vision at Qlik Qonnections 2018 and continue to innovate within this powerful platform."
About Big Squid
Big Squid places the power of predictive modeling and machine learning in the hands of the analyst, executive, and business decision maker. Big Squid's Kraken platform is built specifically to allow user access and data input from all divisions of your company. Leveraging your existing BI data, Big Squid deploys automated data science modeling and machine learning to quickly generate likely future business outcomes and scenarios. Now CEO's, analysts, and all business users alike, can work within one platform and share predictive modeling outcomes across all departments.
About Qlik
Qlik® is the leading data analytics platform and the pioneer of user-driven business intelligence. Its portfolio of cloud-based and on-premise solutions meets customers' growing needs from reporting and self-service visual analysis to guided, embedded and custom analytics, regardless of where data is located. Customers using Qlik Sense®, QlikView® and Qlik Cloud®, gain meaning out of information from multiple sources, exploring the hidden relationships within data that lead to insights that ignite good ideas. Headquartered in Radnor, Pennsylvania, Qlik does business in more than 100 countries with over 45,000 customers globally.
###
© 2018 QlikTech International AB. All rights reserved. Qlik®, Qlik Sense®, QlikView®, QlikTech®, Qlik Cloud®, Qlik DataMarket®, Qlik Analytics Platform®, Qlik NPrinting™, Qlik Connectors™, Qlik GeoAnalytics™ and the QlikTech logos are trademarks of QlikTech International AB which have been registered in multiple countries. Other marks and logos mentioned herein are trademarks or registered trademarks of their respective owners.