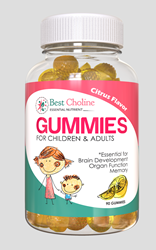 Moms want to do what is best for their kids, but right now, 9 out of 10 women just don't know." - Sarah Kline, Creator of BestCholine
(PRWEB) April 18, 2018
A new study published by the University of Illinois proves that choline intake during pregnancy directly affects brain size and function.
"In pigs from choline-deficient moms, their brains were about 10 percent smaller overall. And 11 of the 19 regions were significantly smaller in choline-deficient brains."
Perinatal choline supplementation has been a main priority for the American Medical Association. They released a statement in 2017 urging all doctors to advise their patients to consume choline or take supplements to prevent life-long learning disabilities in their children.
Sarah Kline is the founder of BestCholine, a company that creates high-absorption choline capsules and is the manufacturer of the first choline gummies. "Choline deficiency is an epidemic; 90% of Americans are affected. Just by taking choline you can change your child's entire life. The research proves that the amount of choline you take impacts your child's ability to learn for a lifetime. Moms want to do what is best for their kids, but right now, 9 out of 10 women just don't know."
Human studies at Cornell University show that children have higher IQ's when born to mothers who supplemented with choline. Intelligence was directly related to the amount of choline taken; the highest IQ's received the most choline prenatally and the lowest IQ's received the least. The benefits are seen as early as 4 months with babies showing significantly higher processing speeds.
Choline deficiency is also seen in ADHD children who have up to 50% less choline in their blood than their peers.
Other studies show that children born to mothers who supplemented with choline did not experience social withdraw or attention issues and have a lower risk of mental illness. Choline has been proven to prevent Schizophrenia when taken prenatally.
A study by Boston University showed that rats who received high amounts of choline in utero did not develop autistic traits as they aged. The rat pups who were deprived of choline in utero did develop autistic traits.
Choline has been proven to develop the brain region known as the hippocampus and MRI imaging shows that the hippocampus in children with Autism is under developed or abnormally shaped. The hippocampus is responsible for memory and emotional regulation.
Down syndrome fetuses also dramatically benefit when their mothers increase their intake of the nutrient choline during pregnancy and nursing.
While choline is critical during pregnancy due to its role as an essential nutrient that develops the brain the importance of choline continues through life.
Choline prevents breast cancer risk by 24%. Choline also transports fats away from the liver, preventing fatty liver disease and is used by some professional athletes for rapid weight loss.
Choline is a precursor to acetylcholine which is a neurotransmitter. Adults and seniors who take choline perform better on memory tests. Choline is being studied as a treatment for dementia and Alzheimers.
BestCholine is the creator and manufacturer of the world's first choline gummies. BestCholine also produces high-absorption choline capsules that crosses the blood-brain barrier. Choline has an FDA recommended daily intake of 550mg and is an essential nutrient. BestCholine offers a choline subscription allowing members to receive choline every month at a discounted rate.