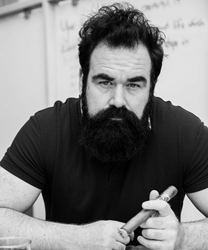 LOS ANGELES (PRWEB) April 17, 2018
Chris Collins, author, speaker, influencer, and business leader/owner/fixer, has recently signed with Abrams Artists Agency (AAA). According to Collins, Abrams Artists Agency "represents some of the entertainment industry's most talented film, TV and theater actors across their adult and youth talent divisions." AAA has signed Collins with plans to develop a business television show and secure a book deal for his business novel, Syndicate X, scheduled to be released later this year.
Chris Collins, founder of the Syndicate X, a "Secret Society for Entrepreneurs and Leaders," has high hopes that his upcoming business show with AAA will appeal to a wide audience, but he especially wants to appeal to millennials (people between the ages of 20-35). "Millennials may be one of the most entrepreneurial generations the world has ever seen," says Collins, "but they are tremendously underserved in business-centric news and entertainment. This is because there's a void in the market for relevant business shows that serve and appeal to a younger demographic. I hope to serve that void with my show and my Syndicate X novel, teaching relevant and unique insights not currently being presented to mainstream audiences."
Chris is the author of three books, including the Amazon bestseller, Gamification: Playing For Profits. He's also the host of the business podcast, Chris Collins Unleashed. While his partnership with Abrams Artists Agency allows him to reach a larger audience of consumers and business owners, his reach before the partnership was already global. Tim Redmond, a former client of Collins' based out of Canada, came forward to give this testimonial: "All I have is simple numbers and real results. In the seven months that we followed Chris' plan, our net-to-gross increased by 40.9%."
Collins concludes, "We need to either start a business revolution or soon we might all be working for Amazon.com."
Chris Collins is based out of Los Angeles, CA. For more information on Chris and his story, please visit: https://chriscollinsinc.com/about-us/