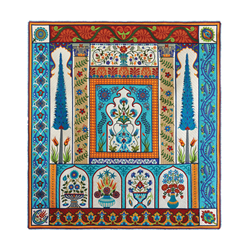 PADUCAH, Ky. (PRWEB) April 18, 2018
AQS QuiltWeek®–Spring Paducah, opening April 18, 2018, features close to 700 quilts from around the world. The high point of the show recognizes the artistry of today's quiltmakers as more than 400 quilters in the AQS Quilt Contest compete for $125,000 in cash awards. Entries in this international contest and exhibition come from around the world, with entries from 45 states and 14 countries. The winners of this year's contest have just been selected:
2018 Award Winners, QuiltWeek®–Spring Paducah, Kentucky
Janome America Best of Show
#512 TURKISH TREASURES, Pat Holly, Ann Arbor, MI
AQS Best Hand Workmanship Award
#314 FOR THE WEDDING OF MY BELOVED DAUGHTER, Keiko Morihiro, Sanda, Hyogo, Japan
BERNINA of America Best Stationary Machine Workmanship Award
#701 MAJESTIC FLIGHT, Joanne Baeth, Bonanza, OR
APQS Best Movable Machine Workmanship Award
#630 STAR OF INDIA, Kris Vierra, Lincoln, NE
Hobbs Bonded Fibers Best Wall Award
#1305 ENDANGERED—THE LEMUR'S TALE, Maria Ferri Cousins and SB Walsh, Great River, NY
Coats & Clark Best Wall Hand Workmanship Award
#1009 SMALL HAPPY CRAZY QUILT, Aki Sakai, Hachiouji, Tokyo, Japan
Brother International Corporation Best Wall Stationary Machine Workmanship Award
#1316 OR-7, Christina McCann, Depoe Bay, OR
Handi Quilter Best Wall Movable Machine Workmanship Award
#1501 I SPY A MOUSE, Cristina Arcenegui Bono, Alcalá de Guadaíra, Spain
AccuQuilt Best Miniature Quilt Award
#1618 MEASURE FOR MEASURE, Philippa Naylor, Beverley, East Riding of Yorkshire, United Kingdom
Nancy Ann Sobel Award of Merit in Hand Quilting
#417 BE HAPPY, Megumi Mizuno, Shiki, Saitama, Japan
Quilt EZ Judges' Recognition Award – Hollis Chatelain
#514 HWASUNG FORTRESS: SUWON HWASUNG VERSION 2, Mikyung Jang, Seoul, South Korea
Quilt EZ Judges' Recognition Award – Ricky Tims
#1308 DADDY'S BOY, Kay Donges, Suches, GA
Quilt EZ Judges' Recognition Award – Donna Wilder
#432 HAPPY!, Masami Yoshihara, Chiba, Chiba, Japan
LARGE QUILTS: Stationary Machine Quilted sponsored by Husqvarna Viking/Sew-A-Lot
1ST #106 PEAR DROPS, Cheryl Kerestes, Wyoming, PA
2ND #102 MY TOWN & COUNTRY QUILT II, Shirley Guier, Houstonia, MO
3RD #101 CELEBRATION #2, Caryl Bryer Fallert-Gentry, Port Townsend, WA
HM #110 RADIANT STARS, Nancy Simmons, Duncannon, PA
LARGE QUILTS: Movable Machine Quilted sponsored by TinLizzie18
1ST #214 FIRST FROST, Jan Hutchison, Sedgwick, KS
2ND #224 MY CHECKERED PAST, Sherry Rogers-Harrison, Normandy Park, WA
3RD #222 FUSION, Elaine Wick Poplin, Huntsville, AL
HM #231 BELLE VENTESIMO, Christy Stephenson, Yardley, PA
LARGE QUILTS: 1st Entry in an AQS Paducah Contest sponsored by Gammill Quilting Machines
1ST #309 BOUDINET CLAN, Anita Huber, New Lebanon, OH
2ND #320 ZAINA'S STARBURST, Qurrat Thakur, Cedar Park, TX
3RD #321 LOVE TO EMBROIDER, Linda D. Vaughan, Caldwell, WV
HM #311 THANKS FRIENDS, Eriko Kubo, Nagoya, Aichi, Japan
HAND QUILTED QUILTS: sponsored by Rotary Club of Paducah
1ST #402 BLOSSOMING INTO WARMTH AND BRIGHTNESS, Harumi Asada, Chitagun, Aichi, Japan
2ND #423 RUFFLED, Linda Roy, Knoxville, TN
3RD #404 FLOWER NEWS, Sachiko Chiba, Morioka, Iwate, Japan
HM #408 WAKU WAKU DO DO DO! VITAMIN COLOR, Chiyoko Hattori, Fukuoka, Fukuoka, Japan
WALL QUILTS: Stationary Machine Quilted sponsored by Baby Lock USA
1ST #524 OG, Karen K. Stone, Southlake, TX
2ND #518 OLD DENIM SQUARE, Noriko Nozawa, Chiba, Chiba, Japan
3RD #501 UNFURLING, Frieda Anderson, Elgin, IL
HM #509 ART OF THE ANCIENT WORLD, Robin Gausebeck, Rockford, IL
WALL QUILTS: Movable Machine Quilted sponsored by Sizzix/Let's Sew
1ST #601 CHAMPAGNE SUPERNOVA, Marilyn Badger, St. George, UT
2ND #622 KALEIDOSCOPIC XLI: THE PRAGUE SPANISH SYNAGOGUE CEILING, Paula Nadelstern, Bronx, NY
3RD #612 FLOWER BASKET, Joyce Hite and Patricia Hechler, Springboro, OH
HM #610 SPELLS & POTIONS, Pam Hadfield, Laguna Niguel, CA
WALL QUILTS: Pictorial Quilts sponsored by Elna USA
1ST #714 BEAUTIFUL AUTUMN, Mariko Miwa, Musashino, Tokyo, Japan
2ND #712 SEASONED WITH TIME, Karlyn Bue Lohrenz, Billings, MT
3RD #715 YOU KNOW WHAT?, Hiroko Miyama, Azumino, Nagano, Japan
HM #720 MONT SAINT-MICHEL MEMORIES, Linda S. Schmidt, Dublin, CA
WALL QUILTS: Modern Quilts sponsored by Statler by Gammill
1ST #810 MODERN MOVEMENT, Rachelle Denneny, Glenelg North, South Australia, Australia
2ND #817 PELOTON, Valli Schiller, Naperville, IL
3RD #820 NEW DIRECTIONS, Betsy Vinegrad, Short Hills, NJ
HM #803 LATERAL ASCENSION, Cassandra Ireland Beaver, Urbana, OH
GROUP QUILTS: sponsored by ABM International
1ST #910 ICE FISHING VILLAGE, Les Amies du Quilt, Jonquiere, Quebec, Canada
2ND #908 FOUR FLEW OVER THE CUCKOO'S NEST, Just Four Friends, Rosemount, MN
3RD #919 ALONG THE FJORD: A SLICE OF NORWAY, Textile Explorers, Mesa, AZ
HM #902 DIRECTION OPTIONAL, Beesewcial, Denver, CO
SMALL WALL QUILTS: Hand Quilted sponsored by Martelli Enterprises
1ST #1001 CRAYONS, Pam Beal, Mass City, MI
2ND #1004 ENGLISH GARDEN, Nariko Kawashima, Yokohama, Kanagawa, Japan
3RD #1005 LAKESIDE REVERIE, Hallie O'Kelley, Tuscaloosa, AL
HM #1012 QUINTET OF KLIMT, Marsha Walper, Tallahassee, FL
SMALL WALL QUILTS: Stationary Machine Quilted sponsored by Koala Cabinets
1ST #1115 BACK TO BALI, Karen Grover, Rockford, IL
2ND #1119 DISCOVERY OF LANDSCAPE, Hyesook Kim, Busan, South Korea
3RD #1141 NEARLY A 9 PATCH, Laura Welklin, Noblesville, IN
HM #1110 A VISIT TO NANA'S ATTIC, Pat Delaney, Abington, MA
SMALL WALL QUILTS: Movable Machine Quilted sponsored by Juki America, Inc.
1ST #1218 THE SALT MARSH NEAR FIRST ENCOUNTER BEACH—TUNING FORK #29, Heather Pregger, Fort Worth, TX
2ND #1223 DOGWOOD WINTER, Kathryn Zimmerman, Mars Hill, NC
3RD #1207 TOFFEE APPLE, Robyn Cuthbertson, Lower Plenty, Victoria, Australia
HM #1203 BLACK PEARL, Aline Bugarin and Natasha Bugarin, Campinas, São Paulo, Brazil
SMALL WALL QUILTS: Pictorial sponsored by Pfaff/Sew-A-Lot
1ST #1302 THE END OF A SEASON, Jan Berg-Rezmer, Gladwin, MI
2ND #1304 SAILING UNDER WATCHFUL EYES, Suzette Coppage, Bel Air, MD
3RD #1328 QUILT HEAVEN: PADUCAH, KY, Karen Turnbull, Laguna Niguel, CA
HM #1326 ALLY'S APPS, Pauline Salzman, Gulfport, FL
SMALL WALL QUILTS: 1st Entry in an AQS Paducah Contest sponsored by Horn of America/SewingMachine.com
1ST #1419 PLAYING WELL TOGETHER, A MODERN SAMPLER, Jackie Nixon-Fulton, Paradise, TX
2ND #1404 KABOOM!, Tere D'Amato, Mashpee, MA
3RD #1423 SQUAREBACK ANTHIAS, Kelly Spell, Hixson, TN
HM #1410 HERE'S LOOKIN' AT YOU, Wendy Knight, El Cajon, CA
SMALL WALL QUILTS: Quilter's Choice sponsored by Superior Threads
1ST #1511 TERRA FIRMA, Mary Menzer, Virginia Beach, VA
2ND #1516 JUST AROUND THE CORNER, Beth Schillig, Gahanna, OH
3RD #1518 POLE DANCE, Claire Victor, Scottsdale, AZ
HM #1513 LUMBERYARD, Lynne Pillus, Oroville, CA
MINIATURE QUILTS: Miniature sponsored by Flynn Quilt Frame Company
1ST #1623 FIREWORKS, Lucia Souza, São Vicente, São Paulo, Brazil
2ND #1603 HADLOCK BROOK BRIDGE, Barbara Binotto, Island Falls, ME
3RD #1619 STREAK OF LIGHTNING, Amy Pabst, Le Roy, WV
HM #1609 DREAMTIME 2, Antonia Hering, Hoorn, Noord-Holland, Netherlands
HM #1606 SUMMER DELIGHT, Cathy Erickson, Washougal, WA
This year's winners share a part of the $125,000 in cash prizes. Quilts from 30 states and 8 other countries have won awards at this year's contest. These winning quilts will astound the 30,000 quilters expected to visit AQS QuiltWeek in Paducah, KY, April 18–21, 2018.
There's still time to come see all the winners, as well as the nearly 700 quilts on display in Quilt City USA®. Admission to AQS QuiltWeek can be purchased at the Schroeder Expo Center and includes access to all special exhibitions and the Merchant Mall. Hours are Wednesday, April 18, through Friday, April 20, from 9 a.m. to 6 p.m., and Saturday, April 21, from 9 a.m. to 4 p.m. Tickets are available at the door.
About the American Quilter's Society
The American Quilter's Society is the largest quilting membership organization in the world. For close to 35 years, AQS has been the leading voice in quilting inspiration and advice. At AQS, we believe that with the proper resources, the creative individual can take their quilting projects beyond what they can imagine. For more information about the American Quilter's Society, please visit http://www.americanquilter.com or call 1-270-898-7903.