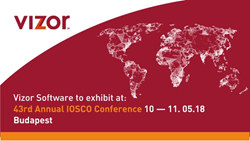 DUBLIN (PRWEB) April 23, 2018
Vizor, the world leader in supervisory software for Securities Regulators and Central Banks, today announced it will be exhibiting at the 43rd Annual Conference of the International Organization of Securities Commissions (IOSCO). IOSCO is the acknowledged international body that brings together the world's securities regulators and is recognized as the global standard setter for the securities sector.
The Conference, hosted by the Magyar Nemzeti Bank (MNB), will be held May 7th to May 11th at the Budapest Congress Centre, and is the first to be hosted by an IOSCO Member from the Central and Eastern European region.
At the conference, visitors to Vizor's exhibition space will have the opportunity to learn:

Why leading financial regulators such as Bank of England Prudential Regulation Authority, Saudi Arabian Monetary Authority, and the Securities Commission of the Bahamas have selected Vizor Software.
How Vizor Software allows investment fund authorisation applications to be processed efficiently and comprehensively.
How Vizor Software helps ensure the correct internal governance procedures have been followed, supported by strong document management and control.
How Vizor Software generates comprehensive Institutional Profiles which record information concerning all sub-funds of an umbrella fund and service providers such as investment managers, fund administrators and custodians.
There will be a live demonstration of the Vizor Licensing and Regulatory Returns product available at the booth. To pre-book a demonstration or a meeting please contact us
Vizor Software for Securities Regulators is a best-in-class authorisation, collection and supervision system. Successfully used by regulators in over 25 countries, it includes the breadth of product capability for the full supervisory function.
For more information about the IOSCO 2018 Conference, visit http://www.iosco2018budapest.hu/
About Vizor
Vizor Software is the global leader in enterprise supervisory solutions for Financial Regulators. We help Financial Regulators protect and enhance the stability of the financial system. Vizor is trusted by Financial Regulators in more than 25 countries for the collection, validation and analysis of highly complex data from financial institutions. Vizor Software is an integrated data collection and supervisory system that is based on best-in-class supervisory models but flexible enough to deal with regulator specific needs. You can learn more at vizorsoftware.com or by following Vizor on Twitter, LinkedIn, Google+.