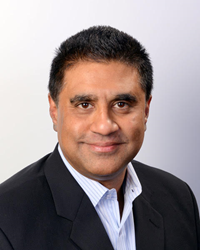 WASHINGTON, DC (PRWEB) April 17, 2018
StreetShares, the military and veteran-focused small business lender and financial technology firm, announced earlier today Mohan A. Rao as Chief Product & Technology Officer. Rao is the former Chief Technology Officer of Hobsons, Inc., and brings over 25 years of experience with building software products, R&D and management consulting to the StreetShares team. As Hobsons' CTO, he led the product development and operations of all product lines in multiple markets, provided leadership through acquisition of two companies, divestiture of non-strategic products, and significant organic investment in innovative technologies. Prior to Hobsons, he was the President & COO of Mobile Insight, and CTO of Wireless Matrix.
StreetShares provides small business financing solutions such as small business loans, the Patriot Express® Line of Credit and government contract financing. StreetShares works to support the 2.5 million veteran-owned small businesses in America, their families and supporters with transparent, fair and affordable financing along with alternative investment products such as Veteran Business Bonds, a product that allows StreetShares' members to make an investment in America's heroes while earning 5% returns.
Mohan Rao said he is looking forward to building and leveraging thoughtful and intuitive technology solutions to drive positive impact to the veteran entrepreneurial community, and enhancing StreetShares' ability to provide fast, affordable, financing solutions to America's heroes and their supporters.
"I am truly thrilled to be joining StreetShares because of its fantastic leadership team and the mission-orientation of helping small businesses run by veterans and their families," Rao said. "This FinTech space is ripe for disruption through the next generation of innovative products built on the StreetShares platform."
About StreetShares
StreetShares provides financing solutions to America's heroes and is otherwise known as the veteran small business funding community. StreetShares offers unique financial solutions for America's heroes and their communities by capturing the social loyalty that exists within the military community and harnessing that trust to lower risk in financial transactions. StreetShares provides a suite of specialty business financing products to small business owners including the Patriot Express® Line of Credit, small business loans, alternatives to VA small business loans for vet-owned businesses and government contract financing solutions, otherwise known as factoring. StreetShares offers alternative investments, including the first ever veteran social-impact investment product, Veteran Business Bonds. StreetShares is veteran-run and located just outside of Washington, D.C. To learn more, please visit: StreetShares.com.