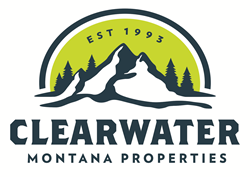 Learning best practices from the best in the business has given me increased knowledge and ability to better serve my customers now and into the future
SEELEY LAKE, Mont. (PRWEB) April 18, 2018
Clearwater Montana Properties today announced that four Clearwater associates were recently awarded the Graduate, REALTOR® Institute (GRI) designation. The most recent Clearwater associates to earn the GRI designation and join an elite group of professionals include: Shaun Lewis, Chief Operating Officer of Clearwater Montana Properties; Ann Snortland, Associate of the Helena office; Jennifer Leavitt, Associate of the Whitefish office; and Shawna Norry, Associate of the Libby office.
Considered by the National Association of Realtors as the "gold standard," the GRI designation is held by fewer than 20% of all real estate professionals. In Montana, the designation is earned by completing a comprehensive three-year program of education covering a variety of subjects including contract law, professional standards, sales and marketing, finance, and risk reduction. The GRI symbol is the mark of a real estate professional who has made the commitment to provide a high level of professional services by securing a strong educational foundation, developing advanced practice skills, and training in effective negotiating techniques. Associates holding the GRI designation are highly trained in many areas of real estate to better serve and protect their clients in the increasingly complex real estate industry.
According to Kevin Wetherell, CEO of Clearwater Montana Properties, approximately 35% of Clearwater associates have been awarded the GRI designations while an additional 30% hold other national designations. Wetherell said that the company considers the GRI designation to be so valuable that it subsidizes a significant portion of the program cost for Clearwater agents who choose to attend - an investment, he says, that constitutes a win-win for both the company and associate. "I appreciate that Clearwater encourages and supports our pursuit of this important professional designation. Learning best practices from the best in the business has given me increased knowledge and ability to better serve my customers now and into the future," said Ann Snortland, REALTOR®, GRI with Clearwater Montana Properties in Helena, MT
Founded in 1993, Clearwater Montana Properties is Montana's largest real estate brokerage firm and the #1 Sports Afield Trophy Properties brokerage in the world. In 2017, Clearwater Properties was awarded the prestigious "America's Best Brokerages" award by Land Report. With a network of over 30 offices across Montana, Idaho, Washington, and Wyoming. Clearwater focuses on providing quality customer service, superior market knowledge, and giving back to the communities we serve. Visit Clearwater at CMPMontana.com or at its official Facebook page.