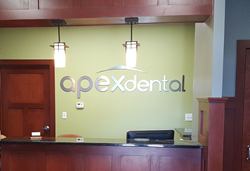 We are very happy to be able to continually improve our office and our services. The new updates will make it possible to see a greater variety of patients while maximizing the resources available within our office
DES MOINES, Iowa (PRWEB) April 19, 2018
Dr. Brad Richtsmeier and Dr. Mindy Richtsmeier are pleased to announce the completion of a remodel at Apex Dental, their Des Moines dental office, located at 1903 Ep True Pkwy Suite 301, West Des Moines, IA 50265.
Work was performed in February and March of 2018 with the goal of enhanced diagnosis, patient education, and treatment of oral conditions, through advancements in technology and dental equipment.
Dr. Mindy Richtsmeier and Dr. Brad Richtsmeier are extremely excited to unveil their updated office, which heightens the quality of service to their patients.
The remodeled office includes ten modern patient care rooms and uses state-of-the-art technology:

An upgrade to the previous digital radiography system with the latest Dexis software, new Dexis brand sensors, and a new DigitalDoc portable xray unit system.
New cutting edge DigitalDoc intraoral cameras to aid in diagnosis and more thorough communication with patients regarding their oral conditions.
Replacement of all dental equipment in the hygiene operatories and sterilization area for enhanced patient comfort and care.
The addition of the highest ranking intraoral scanner, TRIOS by 3Shape, which features a wireless wand to digitally scan teeth and all oral structures for everything from crowns, veneers, and implants to orthodontics and digitally planning complex restorative cases with our dental lab. These digital scans eliminate much of the need for impressions of teeth, resulting in increased patient comfort and the highest quality digitally milled restorations. This is a huge advancement for patients who have a sensitive gag reflex.
"We are very happy to be able to continually the improve our office and our services. The new updates will make it possible to see a greater variety of patients while maximizing the resources available within our office. At Apex Dental we strive to offer attentive, personalized dentistry to individuals of all ages, and this renovation will help take our patients' overall care experience to the next level.," said Dr. Brad Richtsmeier.
"I am very excited about what this remodel brings to our patient experience," Dr. Mindy Richtsmeier added. "When I spot issues in a patient's exam, I can now easily show them what I'm seeing on a screen right in front of them, and more effectively discuss the issue with them. In addition, the new Trios scanner has taken restorative case planning and execution to the next level. My dental lab and I can now digitally plan complex restorative cases to assure the best results, from a functional and aesthetic standpoint."
Apex Dental's updated office provides patients with a convenient, comfortable environment where they can receive the latest in comprehensive, quality dental care. Apex Dental offers general dentistry, preventive care, children's dentistry, and advanced dental services, including adult cosmetic orthodontics, oral surgery, implant dentistry, sedation dentistry, periodontics, and endodontics.
Personalized treatment and friendly service are of the highest importance at Apex Dental. Each patient receives a comprehensive diagnosis and treatment plan designed by the dentist with long-term oral and overall health in mind.
About Apex Dental:
Apex Dental is a leading dental clinic in Des Moines, Iowa, offering the latest cutting edge treatments and technologies. Dr. Brad Richtsmeier and Dr Mindy Richtsmeier have over a decade of experience in providing Des Moines patients with comprehensive dental care. Their team provides dental services ranging from dentures and denture repairs, to oral surgery, preventive care, general dentistry, cosmetic dentistry, and restoration.
Apex Dental offices accepts most insurance plans. Appointments can be made by calling (515) 224 1618. Walk-in and emergency patients are also welcome. To learn more, please visit http://www.ApexDentalIowa.com