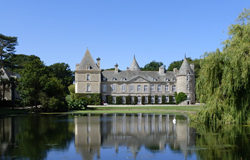 AUSTIN, Texas (PRWEB) April 17, 2018
For those lacking the clout to secure an overnight stay at Windsor Castle, HomeAway® - a site to book beach houses, cabins, condos and more, worldwide - today debuted its 2018 Wedding Collection. This portfolio of castles, seaside villas and other forget-me-not properties, allowing wedding allows revelers to have their destination wedding with accommodations sure to please.
This top 20 list features listings in popular destination wedding locations across Asia, the Caribbean, Europe, and the U.S. From a storybook Welsh castle to a tropical Thai villa, the collection invites soon-to-wed couples and their guests to stay in a vacation rental rather than in a hotel when traveling to celebrate a wedding.
"Every property in our 2018 Wedding Collection offers dream-like accommodations for wedding guests traveling to attend a wedding abroad or a celebration that's just a short flight away," said Melanie Fish, HomeAway's travel expert. "The best part is the value the group will get. Forget the wedding hotel room block. Vacation homes typically provide twice the space at half the cost of staying in a hotel. The entire wedding party or immediate family could stay at a historic French chateau, costing well under $100 per person per night."
Properties in the HomeAway Wedding Collection include:
Westbury Castle (North Wales): Former home to one of the great families in Welsh history, the Mostyns. With room to accommodate 38 overnight guests, add that extra bridesmaid or groomsman, without fear of breaking the budget. ($54 per person, per night.)
Pavillon du Chateau de Tocqueville (France): Once home to Alexis de Tocqueville, 19th-century French diplomat and chronicler of early America, this grand chateau overlooks lush gardens and pristine lakes. ($73 per person, per night.)
Wine Country Escape (Sonoma, CA): Ideal for wine-loving couples planning to say "I do," this luxurious 4,000 square foot property sleeps 12 and is but a short drive to some of the most renowned wineries in Napa. ($108 per person, per night.)
Tropical Hillside Villa (Surat Thani, Thailand): With an onsite housekeeper and optional catered meals, this spacious villa treats one like royalty, with spectacular ocean views the stuff of indelible memories. ($40 per person, per night.)
Villa Can Nico (Punta Cana, Dominican Republic): This family-friendly Caribbean retreat features a private poolside and sleeps 14, with a full boat of beach activities mere steps away. ($57 per person, per night.)
For the entire list, visit blog.HomeAway.com.
About HomeAway
HomeAway, based in Austin, Texas, is a leading online marketplace for the vacation rental industry with sites representing more than two million unique places to stay in 190 countries, and is a part of the Expedia Group family of brands. For more information about HomeAway, please visit http://www.homeaway.com.
© 2018 HomeAway. All rights reserved. HomeAway and the HomeAway logo are trademarks of HomeAway. All other trademarks are property of their respective owners