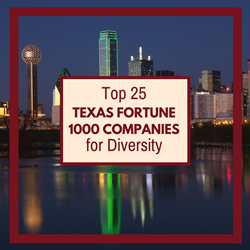 "Although the highlighted companies have made some progress in their inclusion efforts, our hope is that this report will motivate them to continue progressing in a positive direction."
HOUSTON (PRWEB) April 18, 2018
The National Diversity Council is proud to announce the 2018 Top 25 Companies for Diversity in Texas based on gender and minority representation in executive leadership and boards of directors. These organizations were recognized on April 11, 2018 at the 14th Annual Texas Diversity and Leadership Conference.
"I would like to commend the organizations who have made this distinguished list," said Dennis Kennedy, Founder and Chair of the National Diversity Council. "Although the highlighted companies have made some progress in their inclusion efforts, our hope is that this report will motivate them to continue progressing in a positive direction."
Each of the 25 companies has been analyzed and compared against Texas demographics in the recently released report "Workforce Diversity and Corporate Governance: A Quantitative Analysis of Diversity and Inclusion in Texas Fortune 1000 Companies". The National Diversity Council utilized various resources such as census reports, corporate websites, internal contacts, and external diversity associations to gather and report accurate information. A complete list of the Top 25 Companies for Diversity are listed below. To see the full report, please visit our Corporate Diversity Research site.
Texas' Top 25 Companies for Diversity:
1. J.C. Penny Company, Inc.
Marvin Ellison, CEO
2. Kimberly- Clark
Thomas J. Frank, CEO
3. Neiman Marcus
Geoffroy Van Raemdonck, CEO
4. Texas Instruments
Rich Templeton, CEO
5. CenterPoint Energy
Scott M. Prochazka, CEO
6. Commercial Metals
Barbara R. Smith, CEO
7. Dynegy
Robert C Flexon, CEO
8. ConocoPhillips
Ryan Lance, CEO
9. United Services Automobile Association
Stuart Parker, CEO
10. Cinemark Holdings
Mark Zoradi, CEO
11. Marathon Oil
Lee M. Tillman, CEO
12. Dr. Pepper Snapple
Larry D. Young, CEO
13. KBR
Stuart Bradie, CEO
14. AT&T
Randall L. Stephenson, CEO
15. Occidental Petroleum
Vicki Hollub, CEO
16. Michaels Stores
Chuck Rubin, CEO
17. American Airlines
Doug Parker, CEO
18. Phillips 66
Greg C. Garland, CEO
19. Westlake Chemical
Albert Chao, CEO
20. NuStar
Bradley C Barron, CEO
21. Comerica Incorporated
Ralph W. Babb Jr., CEO
22. Valero Energy
Joseph W. Gorder, CEO
23. Brinker International
Wyman T. Roberts, CEO
24. Enbridge
Al Monaco, CEO
25. Waste Management
James C. Fish Jr., CEO
About the National Diversity Council
A non-profit organization committed to fostering a learning environment for organizations to grow in their knowledge of diversity. The council affords opportunities for organizations to share best practices and learn from top corporate leaders in the areas of diversity and inclusion.
More information about the National Diversity Council is available at http://www.nationaldiversitycouncil.org.