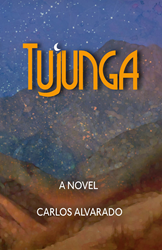 ...a bold novel...so much heart and imagination...reminds me of Dan Brown...
LANTANA, Fla. (PRWEB) April 19, 2018
In 1955 West Virginia and upon a high-school sexual conquest, Curt sets on a course toward manhood. Yet in preparation for a 1972 covert military moon mission, a restive passion challenges everything he had learned of being a man. Thirty-two years later in Los Angeles, Xochi, a genetic anthropologist, tests a recently found batch of astronaut blood samples and finds clues to the origin of a catastrophic pandemic. Defiantly, she recasts the path to her research findings onto the allegories of a favorite poem. After her suspicious death and as if spiritually led, her grieving fiancé goes on a cross-country journey to find the truth. Confronted by the intolerant morality that forced Curt and his wife Claudia into a loving silence, Robert must decide on whether to claim revenge.
What READERS are saying:
(1) VR…This is a really bold novel. There is so much heart and imagination...It reminds me of Dan Brown or John Grisham. It is brimming with romance, intrigue and tension…a novel that will appeal to readers who love thrillers. It has romantic parts, and a mystery that only serves to heighten the emotional core of the story…Tujunga is part mystery, part self-discovery, and part romance with a little bit of horror mixed into it.
(2) MP: …an unusual tale, featuring an eclectic mix with a central plot that is both imaginative and intriguing. You clearly have an ear for poetry
About the author:
Dr. Carlos Alvarado is a retired emergency room physician living in south Florida. In his second novel, Tujunga, he uses poetic rhythm to amplify the storytelling of the paradox of morality. Though it attempts to preserve the order of life, intolerant adherence to morality oftentimes creates the contempt that destroys its core.
Where to purchase:
TUJUNGA can be purchased in paperback or eBook format through the author's website:. Also available through Amazon, Barnes&Noble, and other online retailers.
Like TUJUNGA in FaceBook