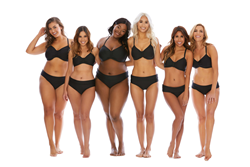 "We created Fit Specialist to assist women in discovering swim to complement their body shape and personal style," says Renee Borsack, Vice President Marketing at RAJ Swim. "Fit Specialist suggests styles that can help balance women's proportions while achieving flattering coverage."
TUSTIN, Calif. (PRWEB) April 17, 2018
SwimSpot helps make swimsuit shopping a breeze with Fit Specialist, a program to assist women in finding the perfect swimsuit for their unique silhouette. Athletic build to full figure, Fit Specialist offers fit and style tips to assist women in understanding which swim styles will flatter their body type and make them feel their best.
The core of Fit Specialist is using real women with six unique body types. The program consists of different women with real and relatable figures. Ranging from petite to plus size, these micro influencers have uniquely beautiful body shapes and are widely known throughout the social media and blogger community. New for 2018, Swimspot launched all-inclusive sizing and has introduced style and trend tips for plus size.
Shopping online for a swimsuit isn't always easy. Styles fit differently and materials vary, but with a program that is easily accessible and full of information – picking out a swimsuit can be a seamless experience. Customers can access Fit Specialist at SwimSpot.com and identify with a body type that is closest to theirs to help make sense of the endless swimwear options. Offering style tips and suggested styles, the program is curated with every woman in mind.
"We created Fit Specialist to assist women in discovering a swimsuit that complements their body shape and personal style," says Renee Borsack, Vice President of Marketing and Digital at RAJ Swim. "Shopping for swim should be easy and fun, Fit Specialist suggests styles that can help balance women's proportions while achieving flattering coverage. The perfect swimsuit can change everything."
In addition to Fit Specialist, SwimSpot offers a variety of swim brands that cater to a wide range of body shapes and different generations. Brands include Athena, NEXT, Ella Moss, Splendid, Sports Illustrated, Luxe by Lisa Vogel, VYB, and more.
ABOUT SWIMSPOT
In 2009, RAJ Swim launched SwimSpot.com – a quick, easy, and fun one stop shop for the modern sun lover. Offering an exceptional selection of women's designer swimwear and all-season accessories. The portfolio of swim brands cater to the active, contemporary, and luxury woman which includes; Athena, Ella Moss, Splendid, Reef, VYB, Luxe By Lisa Vogel, and Sports Illustrated Swim & Active. With eight retail stores in Southern California and one in Hawaii, SwimSpot is curated to provide an incredible array of fashionable swim options for every body type.
CONTACT
Robin LaConde, RAJ Swim, 714-838-3110 x 118, rlaconde(at)rajswim(dot)com