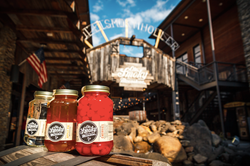 GATLINBURG, Tenn. (PRWEB) April 17, 2018
Ole Smoky, home of the world's most visited distillery and most awarded moonshine, announced today that it will be making an investment in their employees, as well as continuing investments designed to grow the overall business. These were partly made possible by the savings from the Tax Cuts and Jobs Act, recently passed by Congress.
"We are very supportive of the new tax programs, as they are providing an opportunity for us to further invest in our team and business activities," says Robert Hall, CEO of Ole Smoky Distillery. "We greatly value all our very talented employees, and are always striving to do what is best for them and the surrounding community. We will be using some of our tax savings to reward many of these hardworking individuals, as well as increasing our investment in new business endeavors. We couldn't think of a better day to make this announcement."
The moonshine distillery will be using some of the tax cut savings to provide bonuses for all employees below senior management, proportional to their tenure with the company. Additionally, because of its rapid business growth, the company has created many more jobs, particularly in East Tennessee, and plans to continue that growth by investing further in its Sevier County distilleries and expanding its footprint to Nashville, where it plans to open a 4th distillery and retail/entertainment location in the fall. New equipment has already been installed at the company's largest distillery, the Holler, in order to expand production capacity. More equipment is on order for its Pittman Center bottling facility to continue the capacity expansion of that facility.
For more information about Ole Smoky, visit us at olesmoky.com or follow us on social media @olesmoky.
About Ole Smoky® Distillery LLC:
Ole Smoky is the leading distiller of premium moonshine in the U.S. and the first federally licensed distillery in the history of East Tennessee. The company's roots can be traced to the early settlers of the Smoky Mountains. In 2009, (when the law in Tennessee changed and suddenly, it was legal to make, distill and sell the infamous bootlegger's hooch), a group of families decided to bring their artistry of superior moonshine making to the world at large.
Around four million people visit Ole Smoky's three famed East Tennessee distilleries annually: Holler™, Barrelhouse™ and Barn™. The Holler™ see's over two million visitors per year making it the most visited distillery in the world. In 2018, Ole Smoky will open a 4th location in Nashville.
Ole Smoky now retails globally and offers more than twenty creative flavors crafted from authentic family recipes. Ole Smoky can be found in grocery and liquor stores, as well as in on-premise establishments, including some of the biggest music and sporting venues in the country.
For more information, please visit http://www.olesmoky.com and find them on social media @olesmoky.
Shine Responsibly®
©2018 Ole Smoky Distillery, LLC. All Rights Reserved. OLE SMOKY, OLE SMOKY TENNESSEE MOONSHINE, OLE SMOKY WHISKEY, and SHINE RESPONSIBLY are registered trademarks of Ole Smoky Distillery, LLC.
Media Contacts
Amanda Mountan
Ole Smoky Distillery
805.208.9422