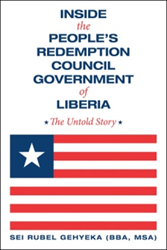 TRENTON, N.J. (PRWEB) April 17, 2018
Sei Rubel Gehyeka (BBA, MSA) considers that many readers are knowledgeable about the 14 years of civil war in Liberia, but majority seem to lack knowledge about the military regime that laid the groundwork. With this, he brings forth "Inside the People's Redemption Council Government of Liberia: The Untold Story" (published by LifeRich Publishing), a book that offers an explanation on what really paved the way to the "senseless" war and how Liberia almost came to an abrupt end.
Gehyeka states that after 133 years (1847–1980) of relative peace and stability in Liberia, the unthinkable happened. A group of enlisted noncommissioned officers of the military seized control of the government. For five years, they monopolized power, and the key leadership was only removed by a civil war. Gehyeka believes that the war was caused by the birth and death of the People's Redemption Council (PRC) government. In the book, he presents what he thinks has been left out of many conversations about his motherland and may possibly be left out of its history.
"The PRC government was unplanned and shocked everyone. Nobody knew its plan of action. It put Liberia in the hands of unprepared and undisciplined people," Gehyeka expresses. Exposing some of the inner working of the PRC government that ruined the Liberian society, Gehyeka hopes that the book may serve as a revelation to readers and make them understand that such act should never be repeated in the future.
"Inside the People's Redemption Council Government of Liberia: The Untold Story"
By Sei Rubel Gehyeka (BBA, MSA)
Softcover | 6x9 in | 86 pages | ISBN 9781489715012
E-Book | 86 pages | ISBN 9781489715005
Available at Amazon and Barnes & Noble
About the Author
Born in a town called Dingamo in north central Liberia, Sei Rubel Gehyeka (BBA, MSA) considers himself "a fittest of survivals." Not many persons ever crossed the many challenges he faced in life. At about age 2, he lost his father, and caring for him rested on maternal grandparents and close relatives. He and two older sisters were eventually taken away by a paternal uncle to live on his farm. Gehyeka lived in Monrovia when the military coup occurred, survived it, and now lives to tell the story. He was tempted with many job offers but turned all down, on ground that he did not want to get anywhere by accident as he may not find a way back. He is currently retired and lives happily with his children, grandchildren and wife in New Jersey.