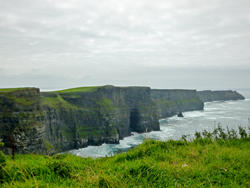 When I started reading about Schengen and non-Schengen countries, I realized this was our chance
BALTIMORE, Md. (PRWEB) April 17, 2018
Europe's rich history, culture, and sense of romance give it a strong appeal for North American retirees. But for citizens of the U.S. and Canada, visits to Europe's Schengen Zone are restricted to 90 out of every 180 days.
Most of mainland Europe—26 countries at present—belongs to the Schengen Zone, which has a uniform visa policy and has abolished passport controls and most other border controls within the Zone.
The Zone is treated as though it were a single country, so passports are checked when first entering the Zone via a member country. But once within the Schengen Zone, passports normally won't be checked again until leaving the Zone.
However, non-Europeans visiting countries within the Schengen Zone as tourists, are limited to 90 days out of every 180 days. International Living's new report reveals a workaround that allows visitors to stay longer, because all those days don't have to be used in one go.
"Around the office, we call it the 'Schengen Zone Hop," says Jennifer Stevens, IL Executive Editor. "Done right, it allows anybody traveling on a U.S. or Canadian passport to enjoy an extended stay in Europe beyond the 90-day limit—legally.
"Say, for example, you want to visit France and Italy, both of which belong to the Schengen Zone. You can spend up to 90 days either in France or in Italy or you can divide your 90 days between the two—but you don't get 90 days in each.
"However, it's possible to break up those 90 days with some time outside the Schengen Zone—say in Ireland. As soon as you leave the Zone, the 'clock stops' so to speak, on the 90 days. And then it starts up again when you return to the Zone.
"You just have to make sure to get your passport stamped when arriving in a non-Schengen country so you have proof of the date you left the Schengen Zone."
Ireland, while a full member state of the European Union, is not part of the Schengen Zone. That means that a trip to the Emerald Isle (or another country outside the Schengen Zone, such as Cyprus or Croatia) for under 90 days, stops the clock on the tourist visa—allowing travelers to pick up where they left off when they return to the Zone.
For the growing number of U.S. citizens considering (or already enjoying) a part-time retirement in Europe, this "Schengen Zone Hop" comes in handy.
"Traveling is a fountain of youth," says Christina Daggett. "I can't imagine going back to the States or our old lifestyle. Nothing could be better than what we're doing now."
Christina and her husband, Tim, are traveling around Europe on their pension income—so far, they have 16 countries under their belts.
"When I started reading about Schengen and non-Schengen countries, I realized this was our chance," says Tim. "We could live in a Schengen country for three months and then move to a non-Schengen country for three months, alternating between the two."
The Daggetts rent apartments in buildings full of locals and shop at the grocery store so they can cook at home most nights. This approach easily keeps them within their modest budget.
"On average, we spend around $700 a month for rent, and a further $1,200 a month for all other living expenses," says Tim. "That includes groceries, public transportation, and at least two days out each week to places like museums. We've lived in supposedly expensive countries, like France and Italy, on this budget."
International Living reports that it's not only couples choosing to retire part-time in Europe—but singles, too.
"Three years ago, I decided to shake up my baby boomer life a bit. I now solo travel abroad once a year, three months at a time, scouting retirement spots," says Carol Barron, who lives in Florida. "I'm not ready to go 'all-in' and live overseas full time."
Carol test-drives her retirement in Europe in the off season, meaning rent is more affordable thanks to a discount for an extended stay without a lot of tourists visiting the city. So far, she has explored Nice, Florence, and Barcelona.
"Since most European countries allow 90-day stays on a tourist visa, I max my stay for the whole 90 days," says Carol. "I also get to enjoy grocery and restaurant discounts since their customers in the off season are mostly locals.
"My lifestyle is jam-packed with adventure, new friends, and exploration. It's funny but since I'm traveling alone, I tend to interact more with locals and easily befriend expats. I'm really glad I decided to not wait to do it tomorrow but to do it now because I'm having a blast!
"Of course, my friends always say when I get home, 'Oh, I wish I could do that!' to which I always reply, 'You can!'"
For Denise Baxendell and her husband Stuart, work pushed their love of travel to the wayside—until they put the wheels in motion. Literally.
"Work commitments never allowed us more than two weeks' vacation at a time," says Denise. "My 50th birthday was a turning point. Seeing friends and family getting older, some of them suffering from illness, I realized that it was time to do all those 'rainy day' things we had always talked about."
They decided to buy a 34-foot RV in the U.K. and travel across Europe with their springer spaniel, Timo. Their travel plans were driven by the weather.
"Spain, Italy, Portugal, and southern France are hot in the summer, so we started with northern Europe and worked south," Denise says.
"Depending on how long your vacation is, you can drive through three or four countries. The highways are generally good, and you can easily have breakfast on the French Riviera and drive to Italy for dinner."
The full report and a detailed map of the Schengen Zone can be found here: The Schengen Zone
Editor's Note: Members of the media have permission to republish the article linked above once credit is given to Internationalliving.com
Further information, as well as interviews with expert authors for radio, TV or print, is available on request. Photos are also available.
For information about InternationalLiving.com content republishing, source material or to book an interview with one of our experts, contact PR Managing Editor, Marita Kelly, +001 667 312 3532, mkelly(at)internationalliving.com
Twitter: @inliving
Facebook: https://www.facebook.com/International.Living/
About International Living
For 37 years, InternationalLiving.com has been the leading authority for anyone looking for global retirement or relocation opportunities. Through its monthly magazine and related e-letters, extensive website, podcasts, online bookstore, and events held around the world, InternationalLiving.com provides information and services to help its readers live better, travel farther, have more fun, save more money, and find better business opportunities when they expand their world beyond their own shores. InternationalLiving.com has more than 200 correspondents traveling the globe, investigating the best opportunities for travel, retirement, real estate, and investment.