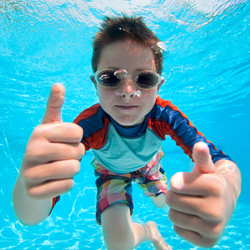 BISHTA and SPATA make it easy for consumers to find the right shape of water for their lifestyle
(PRWEB UK) 18 April 2018
Creating harmony in our lives is every person's desire, and with our ever increasing busy lifestyles, adding the pleasure of water at home can provide the dream lifestyle and that ultimate feeling of paradise! With so many options on offer, making the right choice can be a tricky decision.
Homeowners looking for swimming pool and hot tub inspiration can find it from the winners of the 2018 British Pool & Hot Tub Awards. Hosted by the British and Irish Spa and Hot Tub Association (BISHTA) and the Swimming Pool and Allied Trades Association (SPATA) these awards bring together the two UK industry trade associations, showcasing the wet leisure industry.
Big winners were XL Pools who won three SPATA Gold awards, as well as The Dick Millward Trophy for Pool Contractor of the Year and the Outstanding Pool of the Year Award. Also celebrating were Wensum Pools who were the overall winners of the Peter Geekie Award for Retail Excellence. Not to be outdone, North Spas, Hot Tub Suppliers and Hydropool Devon all came away with two BISHTA Gold awards apiece.
About the British Pool & Hot Tub Awards
The mission of the British Pool & Hot Tub Awards is to recognise the achievements of BISHTA and SPATA members, by showcasing the best examples of design, construction, installation and innovation on an annual basis. Entries are received nationwide from members of BISHTA and SPATA who set standards governing the installation, construction and operation of hot tubs, swim/exercise spas, pools, spas, saunas and steam rooms. Along with establishing a Code of Ethics by which their members abide, the Trade Associations also give a voice to the industry at home and abroad.
With twenty-eight award categories, the British Pool & Hot Tub Awards reflects the variety of pools, spas, wellness and hot tubs that are available to suit all kinds of budgets and tastes!
View the 2018 BISHTA Award Winners
View the 2018 SPATA Award Winners
BISHTA and SPATA make it easy for consumers to find the right shape of water for their lifestyle with their dream pool or hot tub and the trade associations believe that customers should always be able to make an informed choice about the products they purchase. The relevant trade association websites provide free information and guidance, along with a map with a search tool to find members nationwide. Visit; http://www.bishta.co.uk / http://www.spata.co.uk