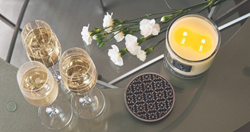 "When you do something you are passionate about, it doesn't feel like work," Paul Aldrich says. "I truly love bringing beautiful light and fragrance into people's homes, and am surrounded by a team that feels the same way."
WELLS, Maine (PRWEB) April 17, 2018
In the early 1990s, Paul Aldrich had just closed his decade-old business and was looking for a job in a struggling economy. Discouraged, he met with his ac-countant, who provided some life-changing advice. Upon learning that Aldrich had dabbled in candle making as a hobby many years before, the accountant suggested, "Do yourself a favor—go buy some wax."
Aldrich did just that, borrowing $20 from a friend to buy some simple supplies, and headed to his own kitchen to make scented votive candles that he gave to friends and family, who wanted more—and were willing to pay for them.
As more and more people bought the candles, Paul would use the money to buy more supplies, expanding the product line by procuring "any container that would hold wax" at flea markets and yard sales. He would take the candles to craft shows on the weekends and go back to his kitch-en to make more.
Soon after, Paul found a sales representative in Boston who placed a large order for the Boston Gifts Show, and the Aldrich home became the headquarters of Village Candle. As demand grew, the company moved out of their living room and into a 2,500 square-foot space in Yarmouth. Within two years, the factory encompassed 30,000 sf and Village Candles were being sold across the U.S., tripling in sales volume every year.
While Paul didn't have experience running a company of that size, he understood that building the right team was essential. Paul's wife, Sally, was part of that team. "She was my rock," says Paul. Some of Village Candle's earliest employees, including the plant manager, several pourers, and the accounts payable person, have been with the company from the very beginning, staying with the company 20-plus years.
"When you do something you are passionate about, it doesn't feel like work," Paul says. "I truly love bringing beautiful light and fragrance into people's homes, and am surrounded by a team that feels the same way."
Over the years, Village Candle has become a much-loved source for fine fragranced candles. Paul understands the power of his candle fragrances and the emotions they evoke in Village Candle enthusiasts. Paul says true happiness comes from reading letters from customers who tell the stories about their experiences with Village Candle, such as a lilac candle sparking mem-ories of picking flowers with Grandma. Fragrances that have been part of Village Candle from the beginning—Spiced Pumpkin, Balsam Fir, Cinnamon Bun, Mulled Cider and Sugar Cookie—continue to delight customers even as the product line expands to include more sophisticated and trend-forward offerings. "I'm so proud of the positive impact our product has had on people's lives," says Paul.
Today, Village Candle celebrates 25 years of bringing the art and heart of fragrance to candle lovers across America and around the world. Still based in Maine and family owned, the compa-ny has embarked on a new adventure and a new world of fragrance that offers deeper, richer and more layered fragrance experiences that surprise and delight, and designs that are both timeless and modern.
As they look ahead to the next 25 years, Paul and his team have set their sights on growing Vil-lage Candle as a global brand, in the same way he grew the company regionally and then nation-ally. The company has nearly 40 distributors across Europe, the Middle East, Australia and South Africa. "In many of those countries, the impact of decorating our homes with fragrance is just beginning to emerge," Aldrich says.
To bring this vision to fruition, Village Candle has made several strategic hires in the last year. Jeanne Hulit, who has more than 20 years of experience in commercial banking and International trade, and who served in President Barack Obama's cabinet as Acting Administrator of the U.S. Small Business Administration, joined Village Candle as President in early 2017. The company more recently hired Clive Harper, who has been credited with creating the European candle market for Yankee Candle, as President of Village Candle's international division. Dana Schwartz, a recognized leader in consumer direct, digital commerce and brand experience in the domestic and international premium brand space, was hired as Vice President of eCommerce and Brand Management.
To share the celebration of this milestone anniversary with loyal customers, partners and friends, Village Candle has created TRUE BRILLIANCE, a limited-edition 25th Anniversary Can-dle that embodies the company's commitment to creating the richest and brightest candle expe-rience.
Infused with an effervescent blend of citrus, fruit and spice, TRUE BRILLIANCE is ideal for spe-cial occasions of every kind. Notes of sparkling orange, fresh apple and melon create a rush of emotion, while a pop of champagne hits the high notes. Deep shimmering notes of amber and woods mingle to create depth and dimension. Presented in custom glass with an embellished sil-vertone top, this special edition candle is perfect for gift-giving. TRUE BRILLIANCE is available in limited quantities at participating Village Candle retailers and online at http://www.villagecandle.com.
ABOUT VILLAGE CANDLE
Founded in 1993, Village Candle® is a manufacturer and multichannel retailer of quality fra-granced candles, gifts and accessories, based in Wells, Maine. Village Candle® creates fra-granced products using the most refined wax, the richest colors, and the finest fragranced oils available. Village Candle creates and brings high quality home fragrance products to market with the intent to inspire through beauty, fragrance and experience. Village Candle products are sold in gift stores, grocery stores and online throughout the U.S., with a growing international pres-ence in over 32 countries.
For more information visit http://www.villagecandle.com.