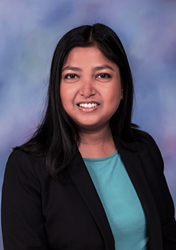 Our industry will benefit from having new research and insights that will help carriers develop strategies to retain drivers.
South Bend, Indiana (PRWEB) April 18, 2018
Stay Metrics, the leading provider of evidence-based driver engagement, training and retention solutions for the transportation industry, announces the hiring of Kamalika Ghosh, Ph.D., as Research Scientist.
In this newly created position, Dr. Ghosh will be conducting analysis and research for the individual motor carrier clients of Stay Metrics. She also will conduct periodic reviews and revisions of the company's standard driver surveys and questions.
Stay Metrics administers a suite of Driver Survey products on behalf of motor carrier clients. The products gather valuable feedback from drivers at critical periods of the employment lifecycle and include a 7-Day Orientation, 45-Day Onboarding, and an in-depth annual Driver Satisfaction survey.
Dr. Ghosh will be enhancing the standard reporting of Stay Metrics' survey results and assisting with new product development such as a Pulse Survey and Driver Retention Index. She will also conduct research benefitting the entire trucking industry and increase the understanding of the powerful relationship between driver feedback, driver engagement and driver retention.
"We are thrilled to have Dr. Ghosh on our team," said Tim Hindes, Co-Founder and Chief Executive Officer of Stay Metrics. "Our clients and the trucking industry at large will benefit tremendously from having new research and insights that will help carriers develop strategies to retain valuable employee and contractor drivers."
Dr. Ghosh will report directly to Timothy A. Judge, Ph.D., Director of Research for Stay Metrics who is the Executive Director of the Leadership Initiative in the Fisher College of Business at The Ohio State University.
"I am excited for the opportunity to join Stay Metrics to help our motor carrier clients solve workplace challenges and to improve driver retention," said Dr. Ghosh. "I also look forward to positively contributing to our new products, services and publications that will benefit the trucking industry."
Dr. Ghosh completed a master's and Ph.D. in Industrial and Organizational Psychology from Rice University in Houston, Texas. She earned Bachelor and Master of Science degrees from the University of Calcutta in India.
About Stay Metrics
The Stay Metrics driver engagement platform helps trucking companies engage, reward and keep their best drivers. Stay Metrics offers an industry-leading suite of driver feedback interviews and surveys, combined with advanced data analytics and predictive modeling focused on driver retention. Driver engagement is further enhanced when carriers use a custom-branded loyalty rewards program developed by Stay Metrics to recognize driver performance. The platform also supports safety and wellness training and serves as a communication and resources hub for drivers.
Learn more about Stay Metrics at http://www.staymetrics.com