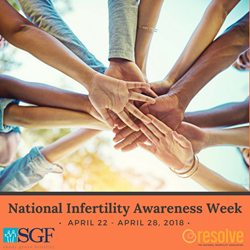 7.4 million people are impacted by infertility—that is 1 in 8 couples struggle to conceive. Helping people realize "you are not alone" is what normalizes infertility and connects others who are on a similar journey.
WASHINGTON (PRWEB) April 23, 2018
Shady Grove Fertility (SGF) has been a leader in infertility awareness, community outreach, and education since the practice first opened its doors more than 2 decades ago. As a RESOLVE Visionary Partner, Shady Grove Fertility supports the "Flip the Script" movement and campaign message of National Infertility Awareness Week (April 22- April 28, 2018). NIAW is a yearly initiative founded by RESOLVE to encourage and unite the community in an effort to remove the stigmas and barriers that stand in the way of building families.
A common misconception about infertility is that it's uncommon. Some couples wonder, "Am I the only one having issues getting pregnant?" Flip the Script: 7.4 million people are impacted by infertility—that is 1 in 8 couples struggle to conceive. Helping people realize "you are not alone" is what normalizes infertility and connects others who are on a similar journey.
Another common misconception about infertility, "If we keep trying on our own, it will just happen." Flip the Script: A woman in her early 30s has a 15 to 20 percent chance of pregnancy per month when she initially starts trying to conceive with her partner. About 60 percent of couples will get pregnant within the first 4 to 5 months. After 1 year of trying to conceive without success, however, the chances of pregnancy decline to 1 to 2 percent per month. "I often remind my patients, the bottom line is, the chances of success decline quickly when you are trying on your own for more than a year. Therefore seeking help from a fertility specialist sooner will provide much more favorable outcomes than if you wait," shares Stephen J. Greenhouse, M.D., of SGF's Fair Oaks and Haymarket, VA offices.
A common fear among couples who are trying on their own is "Fertility treatment won't work for me." Flip the Script: "At SGF, we encourage our patients by reminding them there are now treatments available to help nearly everyone conceive. We determine a treatment plan that is right for you that offers the highest chances of success," adds Dr. Greenhouse.
"I often hear patients reveal that they assumed in vitro fertilization, or IVF, was their only fertility treatment option," says Greenhouse. Flip the Script: 50% of treatment cycles at SGF are considered low-tech. Depending on the age and diagnosis of a patient, low-tech infertility treatments, such as intrauterine insemination (IUI), is often the first treatment approach. "At SGF, we take a stepped-approach to treatment using the simplest and most cost-effective approach first, before moving onto more advanced treatment options, and only if necessary," says Dr. Greenhouse.
A popular and misleading perception of infertility treatment is that it's not affordable. Flip the Script: SGF has the largest infertility insurance network in the nation and accepts over 30+ insurance plans. In fact, 90% of patients are covered for the initial physician consultation, and 70% are covered for some if not all diagnostic testing and treatment. For those without insurance coverage, SGF offers unique financial options, even a 100% refund guarantee, designed specifically for their patients so that cost is not a barrier to seeking treatment.
"I often hear from my patients that they always thought infertility was a female problem. Since women are the ones who carry the eventual pregnancy, they assumed that most if not all infertility cases stemmed from a female problem," adds Greenhouse. Flip the Script: The reality, male factor infertility accounts for nearly 40 to 50 percent of all infertility cases, which is why SGF tests both the male and female during the initial infertility work-up to determine an appropriate diagnosis. "Treatment for infertility should never begin unless both partners are tested," reminds Greenhouse.
Since establishing a partnership with RESOLVE, Shady Grove Fertility has helped to raise not only awareness about infertility, but more than $300,000 in support through annual events that advance RESOLVE's programming, such as support groups, educational content, public awareness initiatives, and advocacy to ensure that family building options are available to everyone.
To stay connected with SGF during NIAW, follow them on Facebook, Instagram, and Twitter, and visit their website ShadyGroveFertility.com. To schedule an appointment at one of SGF's 29 locations, please call 888-971-7755.
About Shady Grove Fertility (SGF)
SGF is a leading fertility and IVF center of excellence with 50,000 babies born and counting. With 42 physicians and 29 locations throughout MD, PA, VA, D.C., and GA, we offer patients individualized care, accept most insurance plans, and make treatment affordable through innovative financial options, including treatment guarantees. More physicians refer their patients to SGF than any other center. Call 1-888-761-1967 or visit ShadyGroveFertility.com.
About Resolve
RESOLVE: The National Infertility Association is a national nonprofit patient advocacy organization. One in eight U.S. couples of childbearing age has trouble conceiving or carrying a pregnancy to term. Founded in 1974, RESOLVE provides free support groups in more than 200 communities; is the leading patient advocacy voice; and serves as the go-to organization for anyone challenged in their family building. For more information, visit http://www.RESOLVE.org.