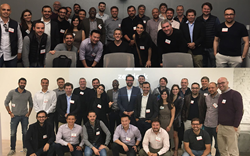 Silicon Valley, California (PRWEB) April 17, 2018
Belatrix Software, a leading software development company, has launched an initiative, "Software Startup Week" to examine the key issues that software-based startups face on their path to success and growth. As part of this, Belatrix is publishing articles each day examining a key issue that startups face.
The inspiration for the Software Startup Week came from a recent visit to Silicon Valley. Here, Belatrix President and Co-founder, Alex Robbio, along with Belatrix's Director of Technical Consulting, Pablo Lecea, met with some of Silicon Valley's most successful and prominent entrepreneurs and founders, including Aaron Levie, the CEO and Co-Founder of Box, Mikkel Zvane, Founder and CEO of Zendesk, and Armando Mann, VP of Sales and Client Success of SalesforceIQ. Belatrix wants to share the insights and best practices from these meetings with other startups, to help them in their journeys.
This week, Belatrix will examine five core topics for software startups:

Does your startup really need a chief revenue officer? What are the benefits and challenges of creating such a role?
Should you build a flat organization? Some organizations, such as Zoom, have found success in shunning traditional organizational structures, but should you?
Can your startup afford to ignore social responsibility? With all the other priorities that startups and founders face, corporate social responsibility can easily be put to the side. Belatrix argues that it should be at the center of everything you do.
What is the next evolution of SaaS? Many SaaS enterprises have grown exponentially in recent years, led by well-known companies such as Salesforce, Workday, and ServiceNow. But where will the next wave come from? Belatrix argues startups should look to IoT platforms in order to catch the next wave.
What is the best way to deal with technical debt? How can startups best deal with technical debt, and how they can ensure it receives a similar level of attention as new features?
Belatrix has a long history of working with startups, often in novel ways. For instance, the company has engaged in innovative delivery models, such as offering discounted services in exchange for equity. Belatrix has developed dedicated centers of excellences to help startups with their specific needs, for example in rapidly creating a MVP or prototype, which the startup can then show to potential investors or customers. Also, Belatrix has developed a full framework for startups with out-of-the-box services covering UX, mobile, DevOps (continuous integration/ continuous delivery) and scalable automation, to make sure they start off on the right foot - not just covering the initial needs, but planning for growth.
Alex Robbio, President and Co-founder of Belatrix, commented, "From personal experience, I know how hard it is to start a new business and achieve long-term success. I hope this initiative provides value to other founders and entrepreneurs. Some of the most rewarding partnerships that we have been involved in, have been helping startups build industry leading software, getting their product to market, and helping them on their path to sustainable growth, and in many cases to a successful exit or acquisition".
About Belatrix Software
Belatrix Software helps companies thrive in the digital world. Organizations partner with Belatrix to turn ideas into high quality, innovative software based on highly-tuned Agile development processes. Customers use Belatrix's digital transformation services to create best-in-class software products, lower time to market, and gain competitive edge. Belatrix's dedicated labs, focusing on UX, continuous delivery, mobile, DevOps, and QA automation, help organizations become digital leaders.
Belatrix's clients include both established Fortune level and emerging, venture backed firms. Some of the firm's clients include Disney, Adobe, AOL, PwC, Fluor, and Shutterfly. Belatrix is a South American company with offices in Florida, New York, San Francisco, Mendoza, Buenos Aires, Bogotá and Lima. For more information, click here.