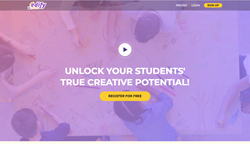 Right from our inception, we've had a lot of users from the education industry. We were constantly in touch with both students and teachers to understand their pain points, and to know how they wanted to use Animaker
LAS VEGAS (PRWEB) April 19, 2018
Animaker Inc. the online DIY video creation platform that empowers people to create animated videos has stepped in to help move the education industry forward by launching Animaker Edify. Edify is an arsenal of digital tools that allows students to nurture their creativity by empowering them to create animated videos and lots more… Edify will help schools to formulate Creative Clubs and improve the overall Creativity Quotient (CQ) of their students.
About the company's new product launch, Animaker CEO Raghav said, "Right from our inception, we've had a lot of users from the education industry. We were constantly in touch with both students and teachers to understand their pain points, and to know how they wanted to use Animaker. Then we realised that the main problem was that there was a lack of foundation in schools to invoke a creative environment. We urged all our users to start "Creative Clubs" in their schools. Based on their inputs, we also built Edify to support the cause! So Edify is more like a tool created for teachers by teachers! We're also helping schools set up their Creative Clubs! At least a 1000 by end of this year!
So how can Edify revolutionize the world of education?
Edify was built with the ideas and feedback from 200,000 education users in Animaker.
According to a survey more than 80% of students wished they had more exposure to creativity as students. Edify helps to innate the creativity of students right from a young age.
According to a survey by Indiana University, more than 75% of students feel existing education material being taught is not interesting. Edify's creative tools (2D Video Maker, Infographics Maker, Poster Maker, Deck and lots more...) will make learning more engaging.
About Animaker Inc.: Animaker Inc. is a fast growing startup that has garnered more than 1 million users. It's astonishing growth can be attributed to its strong sense of innovation. Animaker came out with the trendsetting Video Infographics which married data with storytelling and the world's first Vertical Video Maker to meet the demands of the smartphone first world. They even released a Whiteboard Video Maker which allowed users to make 5 types of Whiteboard videos!