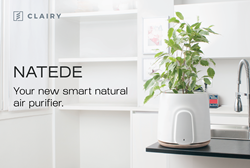 Plants placed in NATEDE metabolize a significantly higher amount of pollutants compared to plants potted in regular vases, because of the combination of design and embedded technology, and NATEDE's air flow system quickly and quietly cleans air from a plant's soil.
MILAN and SAN FRANCISCO (PRWEB) April 17, 2018
Today, Clairy introduced their latest technological advancement in air purification: NATEDE. NATEDE launches on Kickstarter, where the company introduced their first product, the award­ winning Clairy, two years ago to much fanfare and success. The name NATEDE comes from Clairy's unique and proprietary product concept trilogy: NAture, TEchnology and DEsign.
Clairy's corporate mission is to empower people to clean and purify the air in their homes, offices, schools and public buildings. The air inside can be up to 5 times more polluted than the air outside, ­stated the World Health Organization­ and contaminants come not only from the often­ polluted air outside, but also from cleaning products, carpeting, paint, furniture, smoke, dust, cooking and more. As we spend on average 90% of our lives indoors, it is critical that we address the multitude of negative effects air pollution can cause: allergies, asthma, poor sleep, skin irritation, coughs, runny noses, itchy eyes and more long-term, harmful impacts on our health and well ­being.
Like Clairy's first product, NATEDE is not just a beautiful air purifier, but also a plant holder, designed and crafted in Italy and available in sustainable biomaterial or ceramic­, the latter for its premium version.
NATEDE is a beautiful accessory for any home, and its simple design is deceptive: it features the most advanced sensors and has a new photocatalytic filter, which does not need to be replaced, therefore eliminating waste and the extra expenses. Thanks to the combination of the plant with photocatylisis, the product is now able to eliminate 93% of Vocs, 99% of bacteria, virus and fine particulate.
Clairy CEO Paolo Ganis said, "The core technology of NATEDE is phytoremediation, which means that it uses the natural power of common plants to clean toxins in the air. This was studied by NASA in the '80 and implemented by us with almost 3 years of research at PNAT and LINV, two of the most important laboratories on plants neurobiology in the world. Plants placed in NATEDE metabolize a significantly higher amount of pollutants compared to plants potted in regular vases, because of the combination of design and embedded technology, and NATEDE's air flow system quickly and quietly cleans air from a plant's soil."
Clairy has gone through a complete redesign with upgraded features for this new product. The monitors and sensors inside of NATEDE can accurately read the temperature and humidity of a room, as well as detect VOCs, PM2.5, and CO. The new LED interface communicates air quality levels without the use of the Clairy application, but the Clairy app allows users to monitor air pollutants and control the air flow in their space in real time. NATEDE can even connect to other smart home devices, such as Amazon's Alexa, and provides users with health tips.
Along with NATEDE's upgraded features, NATEDE's updated design offers a more modern shape and sleek look with cleaner lines and a wooden base that's made of all-natural materials that are 100% recyclable and environmentally friendly. NATEDE also features a self­-watering system, hence it helps to further reduce water consumption ­other than keeping plants alive while we are on the move or on holidays, even long ones. ­Its water tank can bring water to plants for about a month.
The NATEDE empowers families, companies and school administrators to take control of their indoor environment, and to make the air clean, safe and healthy. The NATEDE can provide quick and substantial benefits for the health and comfort of
families, pets, schoolchildren and employees.
NATEDE is available for pre­ordering starting at €133 ($164) on Kickstarter. To learn more about the campaign, visit pr.go2.fund/natede.
About Clairy Inc
Clairy.inc is an American company born from an Italian startup, Laboratori Fabrici. Clairy presented its first product at CES Las Vegas in 2016 and was then incubated for 3 months in Silicon Valley by Plug and Play Ventures, one of the most important accelerators in the world. The company focuses on health and wellness, by developing hybrid products that combine nature, technology and Made in Italy Design. The Company's first product has been presented at CES in Las Vegas in 2016. Clairy is the first producer of air purifiers truly based on nature, technology and design. Clairy sells its products in over 50 countries worldwide. Clairy is at the forefront of a green revolution, allowing users to use common plants to take control over the air they breathe, by allowing them to remotely monitor and control their Clairy with a proprietary app connected to the most advanced sensors embedded in its technological heart. Combining the best of nature and technology, Clairy's design team has developed the best natural and smart air purifier, already awarded for its design with the European Design Award in 2017 and for its product purpose that improves health and wellness, the company received 2 million Euro investments from the European Union. Launched in 2016, Clairy is a privately held company, headquartered in Pordenone, Italy, with offices in Milan and San Francisco. The Clairy app is currently available as a free download for iPhone, iPad and Android devices globally. Clairy's products are available for purchase in the most stylish colors on http://www.clairy.com.