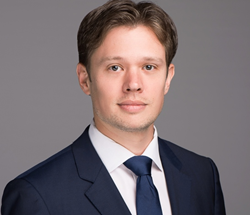 Tampa, FL (PRWEB) April 17, 2018
Daniel Auerbach of Cotney Construction Law, LLP was recently named General Counsel of the Treasure Coast Roofing & Sheet Metal Association (TCRSA). As General Counsel, Auerbach will provide legal assistance with the association's structure and bylaws, operations, board of directors, and governance policies.
"TCRSA is a great association to be a part of. Its members are clearly invested in the future of the roofing industry," said Daniel Auerbach, "This is a great opportunity, and I'm happy to help out the industry in whatever way I can."
Auerbach's practice area encompass both commercial and construction litigation in addition to various transactional matters. Specifically, Dan works on contract review and drafting, contract negotiation, lien law, bond law, building code violation defense, construction defect litigation, OSHA defense, bid protest litigation, employment claim defense and contractor licensing defense.
###
About Treasure Coast Roofing & Sheet Metal Association
The Treasure Coast Roofing & Sheet Metal Association was restarted in 2016 to bring together contractors as well as businesses with related interests. TCRSA's purpose is to foster and encourage a high standard of business ethics among its members and to inform the general public of the importance of doing business with competent and ethical firms. TCRSA represents the interests and acts as the voice of its membership before government and regulatory bodies of all kinds and works to improve the overall industry in keeping with the general purposes of the Association.
About Cotney Construction Law
Cotney Construction Law, LLP is a national construction law firm that advocates for the roofing industry. The firm serves as General Counsel to Florida Roofing and Sheet Metal Association (FRSA), Tennessee Association of Roofing Contractors (TARC), Roofing Technology Think Tank (RT3), National Women in Roofing (NWIR), and a number of local roofing associations. Cotney Construction Law's practice areas include construction law, litigation, arbitration, contract review & drafting, immigration, employment, OSHA defense, licensing defense, bid protests, lien law, bond law and alternative dispute resolution. The firm has offices throughout Florida, as well as locations in Nashville, Houston, Grand Rapids, and Mobile, Alabama. For more information, visit http://www.cotneycl.com.