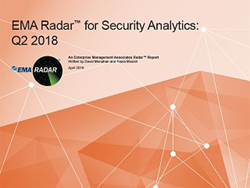 Log-based security analytics solutions are delivering on the promise of reducing alert fatigue and aiding in faster recognition of threats.
BOULDER, Colo. (PRWEB) April 18, 2018
Enterprise Management Associates (EMA), a leading IT and data management research and consulting firm, today announced the release of its newest EMA Radar Report titled, EMA Radar™ for Security Analytics: Q2 2018. Created to assist IT professionals in selecting the right solutions for their specific needs, EMA has identified the leading vendors in this space based on key criteria defined by EMA managing research director of security and risk management, David Monahan. Paula Musich, research director of security and risk management at EMA, was a key contributor to the report as well.
In this age of cybersecurity, there has been a growing need to figure out how to identify and respond to security incidents faster. Part of this challenge is being able to wade through the incessant and overwhelming noise of alerts and reduce them to a small trickle of real problems that can be clearly defined and addressed quickly.
Numerous startup companies have been established over the last several years to address this gap in analytics and visibility of real issues in the sea of alerts. This report delves into the platforms, solutions, and products supplying log-based security analytics to security practitioners for the express purpose of reducing the sea of alerts into fewer actionable outcomes, without the tuning side effects that can filter out alerts on actual threat activity.
"The field of security analytics is growing quickly with a vast array of technology advances from vendors," said Monahan. "These log-based security analytics solutions are delivering on the promise of reducing alert fatigue and aiding in faster recognition of threats."
The report evaluates vendors across five major categories supported by over 100 KPIs. EMA evaluated, scored, and ranked each vendor under the same documented criteria. Each participating vendor has a profile that outlines the solution, including its strengths and weaknesses, in comparison to the other vendors evaluated. It also documents key decision-making factors important to the buying process and ultimately depicts the vendors' relationship to each other based on value vs. functionality.
A detailed, comparative study of solutions from the following vendors is provided in the report:

Forcepoint
Fortscale
Gurucul
IBM QRadar
LogRhythm
Seceon
Securonix
Splunk
Symantec ICA
The EMA Radar™ for Security Analytics: Q2 2018 is available online.
About the EMA Radar Report
The EMA Radar Report delivers an in-depth analysis of industry-leading vendors and vendor products, including their overall market position in comparison with other vendors. This information is laid out in an easy-to-decipher, detailed Radar Chart, making it simple to see how vendors measure up in the market, as well as against other vendors. The EMA Radar report also provides a detailed discussion of methodology and criteria, a high-level market segment overview, and a comprehensive analyst write-up on each vendor.
About EMA
Founded in 1996, EMA is a leading industry analyst firm that specializes in providing deep insight across the full spectrum of IT and data management technologies. EMA analysts leverage a unique combination of practical experience, insight into industry best practices, and in-depth knowledge of current and planned vendor solutions to help its clients achieve their goals. Learn more about EMA research, analysis, and consulting services for enterprise line of business users, IT professionals and IT vendors at http://www.enterprisemanagement.com.