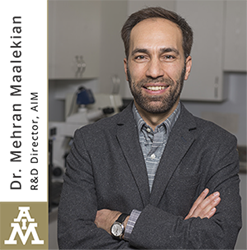 CRANSTON, R.I. (PRWEB) April 17, 2018
AIM Solder, a leading global manufacturer of solder assembly materials for the electronics industry, is pleased to announce that Dr. Mehran Maalekian, Research & Development Director, will present at the SMTA Electronics in Harsh Environments Conference taking place April 24-26, 2018 at the Crowne Plaza Amsterdam in Schiphol, Netherlands.
Dr. Maalekian will share his extensive knowledge of solder alloys used in harsh service environments such as high power LED and automotive under-hood applications. Sn/Ag/Cu (SAC) alloys have demonstrated unstable mechanical performance and are not adequately reliable for high thermal stress applications. In this work a novel high reliability SAC base alloy with added alloying and micro-alloying elements, REL22™, is presented. By comparing thermal, mechanical, wetting properties of REL22 against reference SAC, it is explained why REL22 with greater strength and stable creep properties possesses superior thermal fatigue resistance and mechanical properties as compared to SAC305 and other SAC and low silver alloys.
About Dr. Maalekian
Dr. Maalekian is experienced in materials engineering with a focus on physical metallurgy, soldering, modeling in materials engineering, metal forming and thermo-mechanical processes. Dr. Maalekian has received numerous recognitions including the National Sciences and Engineering Research Council of Canada Award, the International Henry Granjon Prize (IIW), and IWS-Sossenheimer Award. He has been awarded the honor of Speaker of Distinction by the Surface Mount Technology Association (SMTA). Dr. Maalekian has published many scientific and technical papers, serves as a reviewer of several scientific journals, and is on the editorial board of "Science and Technology of Welding and Joining."
About AIM
Headquartered in Montreal, Canada, AIM Solder is a leading global manufacturer of assembly materials for the electronics industry with manufacturing, distribution and support facilities located throughout the world. AIM produces advanced solder products such as solder paste, liquid flux, cored wire, bar solder, epoxies, lead-free and halogen-free solder products, preforms, and specialty alloys such as indium and gold for a broad range of industries. A recipient of many prestigious SMT industry awards, AIM is strongly committed to innovative research and development of product and process improvement as well as providing customers with superior technical support, service and training. For more information about AIM, visit http://www.aimsolder.com.
Upcoming Events:
April 24 – SMTA Empire – Holiday Inn Syracuse, Liverpool, NY
May 9, 2018 – SMTA Wisconsin Expo – Milwaukee Crowne Plaza, Milwaukee, WI
May 15, 2018 – SMTA Carolinas – DoubleTree Raleigh Brownstone, Raleigh, NC
May 22, 2018 – SMTA Michigan – Laurel Manor, Livonia, MI