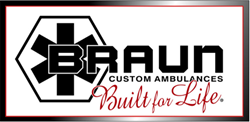 VAN WERT, Ohio (PRWEB) April 18, 2018
Braun Industries will be attending FDIC International in Indianapolis, IN. FDIC is held at the Indiana Convention Center and Lucas Oil Stadium each year and is the largest firefighter conference and expo in North America. Braun Industries will be participating as an exhibitor April 26-28, 2018 in the Indiana Convention Center. The ambulance manufacturer will have five units on display throughout the exposition, with three units located in their booth, #5747.
FDIC, also known as the Fire Department Instructors' Conference, was established in 1928. In 2017, more than 34,000 people from all over the world attended the event. The event is a mixture of educational opportunities and exhibitions. FDIC kicks off on April 23rd with various hands-on-training sessions, classroom sessions, and workshops. These will continue throughout the week. The exhibition halls open on Thursday, April 26th. The Indiana Convention Center exhibition hall hours are: Thursday, April 26th from 12 PM – 5PM, Friday, April 27th from 10 AM – 5 PM, and Saturday, April 28th from 9 AM – 2 PM.
Braun Industries will have five new ambulance units on display throughout the expo hall. There will be three units in Braun's booth, #5747, including customer units from Osceola, FL, New Orleans, LA and Van Wert, OH. The Osceola unit is a Super Chief Type I International 4300, which includes unique features like the EVS HiBac integral child safety attendant seat with V4 harness, Whelen Pioneer Front Scene lighting, the Opticom dual camera system, and Zico SCBA holders. The New Orleans EMS unit is a Liberty Type I Ford Super Duty F450. Its features include the Brigade 360° Camera system, AW Direct Steel Bumper with reflective chevron graphics, OTE temp controlled medical cabinet, and a custom front console with personnel storage locker. The Van Wert unit is a Super Chief Type I International 4300. This unit features aluminum wheels, LiquidSpring suspension, touch screen with 10.6" infotainment technology, and PAC Trac in OSS compartment. In addition, this unit will serve as the primary demo vehicle for the latest version of MasterTech FleetConnect. MasterTech FleetConnect is a technology platform exclusive to Braun designed to help lengthen vehicle life, reduce unplanned downtime, and empower remote maintenance and troubleshooting of a vehicle in real-time.
In addition to the units in Braun's booth, the ambulance manufacturer will have units in the Ford Commercial Vehicle and General Motors Fleet booths. Ford, booth #4857, will have a Chief XL Type I from Elwood, which features include a Ford F450 chassis, Norcold refrigerator, FireCom intercom system, and Stryker PowerLoad system. General Motors Fleet, booth #4039, will feature a Chief XL Type III ambulance on a Chevy G4500 chassis. This unit features a Stealth Power System, MasterTech Multiplex electrical system with Fleet Connect, and Valor heated/cooled attendant seat.
Members of Braun direct including President, Kim Braun, VP of Sales & Marketing, Chad Brown, and VP of Operations, Gary Kohls will be in attendance. Regional Sales Managers Jason Adair, Jarrett Hammons, and Jason Gerhardt and members of the sales support and engineering teams will also be in attendance. President/CEO of Demers & Braun and President of Demers, Alain Brunelle and Executive Vice President of Demers, Benoit Lafortune, will also be in and out of the Braun booth; Braun Industries and Demers Ambulances announced their merger on February 2, 2018. Representatives from Braun's national dealer network will also be in attendance. Penn Care, North Central Emergency Vehicles, Kodiak Emergency Vehicles, Spartan Fire Apparatus, Ten-8 Fire Equipment, Pinnacle Emergency Vehicles, Emergency Equipment Professionals, First Priority Group, All Area Fire & Rescue, Hughes Fire Equipment, Glick Fire Equipment, Nexus Emergency Group, and North Eastern Rescue Vehicles will have new ambulance sales representatives at FDIC 2018. Several of Braun's customers who have vehicles on display at the show will be joining them as well.
For those unable to attend FDIC 2018, the ambulance manufacturer will be bringing the show online through several Facebook Live sessions. These sessions will be announced in advance on Braun's Facebook page and will include a show overview, as well as detailed walkaround of each unit on display. They will also be holding an informational session on the new features of MasterTech FleetConnect. On Thursday, April 26th, Kim Braun and Alain Brunelle will be holding a Question & Answer session to discuss the Demers & Braun merger. This is set for 11:30 AM, prior to expo doors opening. The session will be shared by video after the event.
If you'd like more information about the Braun ambulance models on display at FDIC 2018, please call Chad Brown at 419-232-7054 or email ChadB@BraunAmbulances.com.
About Braun Industries:
Braun Industries, Inc. is THE Premium Ambulance producer for product quality and custom product design. The company has been building ambulances that are "Built for Life" since 1972. Braun ambulances include exclusive innovations such as SolidBody™ Construction, EZ-Glide™ Sliding Door, MasterTech™ Multiplex Electrical System, VitalMax™ Lighting System and EZ-O2 Lift System. Braun has extensive industry membership including - National Truck and Equipment Association (NTEA), Ambulance Manufacturers Division (AMD), National Fire Protection Agency (NFPA), among many others. The company is headquartered in Van Wert, OH on a sprawling campus of 23 acres. The campus includes a 114,000 sf. manufacturing plant and 51,000 sf. Sales/Service facility.
For more information, visit http://www.BraunAmbulances.com