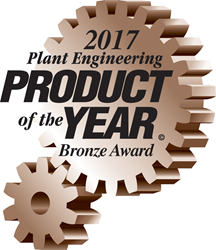 BRADENTON, Fla. (PRWEB) April 17, 2018
IRISS proudly announces that the CAP-ENV-PDS has won the Bronze Award for Electrical Safety in the Plant Engineering 2017 Product of the Year awards program. The winners of the Plant Engineering 2017 Product of the Year awards represent the best in new ideas to help plants run smarter, safer, faster, and more efficiently.
What is the CAP-ENV-PDS?
The CAP-ENV-PDS allows visual, infrared and ultrasound inspection all through a single maintenance inspection system. The Partial Discharge Sensor (PDS) is a built-in piezoelectric sensor that you connect with a standard handheld ultrasound tester that allows you to keep the panel in a "closed and guarded" condition, even when taking ultrasound readings, ensuring personnel safety at all times.
On April 16, 2018, the winners were announced at the annual Engineering Awards in Manufacturing event in Chicago, IL. Winners were selected by Plant Engineering's readers from more than 100 entries. They reflect the new ideas to solve traditional problems, as well as innovations that will help better implement the new technology available today. A full report on the awards event and coverage of the winners will appear in the May issue of Plant Engineering.
IRISS is the global leader in Electrical Maintenance Safety Devices and Solutions. Our products enhance a company's critical asset surveillance program by saving time, money and lives. To learn more, visit http://www.IRISS.com today.