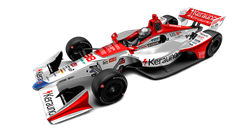 INDIANAPOLIS (PRWEB) April 17, 2018
Kerauno, a global communications workflow platform, today announced that it has become the "Official Communications Workflow Software" of Andretti Autosport. This agreement renews and expands upon a multiyear partnership that first began with Kerauno's sister company, Axia Technology Partners. This year, the Kerauno team is working very closely with Andretti Autosport to incorporate Kerauno's best-in-class communication workflow platform to boost collaboration at every level of the organization and improving the Andretti fan experience.
"We've had a strong relationship with AxiaTP for many years, and we're excited to grow and expand our partnership through Kerauno," said Andretti Autosport CEO Michael Andretti. "Kerauno's workflow platform has been integrated throughout the Andretti Autosport organization, and is already delivering value by creating efficiencies within our everyday processes."
Launched in 2015, Kerauno was born out the digital transformation movement, and offers a first-in-kind Communication Workflow-as-a-Service (CWaaS) platform that helps customers like Andretti Autosport uncover hidden insights. The Andretti organization is leveraging Kerauno technology throughout the 2018 racing season to help amplify the hospitality interactions within the guest services department and deliver a more complete and enjoyable fan experience. The next-generation workflow platform is optimizing business processes within Andretti's sales, marketing and sponsor engagement departments, which provides the organization with a clear path for return on the overall technology investment.
"We are very excited to continue our longstanding relationship with Andretti Autosport, and are honored to provide them with our intelligent workflow platform that will help make race day more efficient and improve the way racing fans experience the sport," said Josh Ross, CEO of Kerauno. "Kerauno will deliver actionable insights that increase efficiencies to uncover value and optimize core business processes for Andretti, both off and on the track."
For more information about how Kerauno is impacting Andretti Autosport, go to http://www.keraunouc.com/andrettiautosport.
Kerauno is also proud to be the primary sponsor on the #98 Kerauno/CURB Honda with Marco Andretti as well as the #27 Kerauno/Military to Motorsports Honda with Alexander Rossi for the Honda Indy Grand Prix of Alabama at Barber Motorsports Park on April 22, 2018. More information about Kerauno's sponsorship of Andretti Autosport can be found at: http://bit.ly/Kerauno_Sponsors_Andretti.
About Kerauno LLC
Kerauno is a global Communications Workflow as a Service (CWaaS) platform that powerfully connects people, process, software and systems. Through the infusion of key modes of communication including voice, SMS text, chat, email and social media, Kerauno can amplify existing business software to provide strategic insights and actionable analytics across all forms of communication which affect every industry and vertical. Headquartered in Indianapolis, Kerauno has created a global customer base that relies on its mobile-centric communications workflow platform to optimize business processes, enhance customer and employee engagements, and drive revenue to the bottom line. For more information, go to https://www.keraunouc.com.