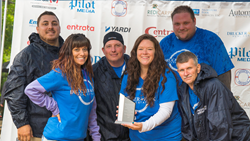 Consistently having our communities recognized by our residents for the excellent service provided by our on-site people is the foundation of our continued growth
NEWPORT NEWS, Va. (PRWEB) April 17, 2018
The Online Reputation Assessment (ORA™) Power Ranking, one of the most anticipated measures for property management companies across the nation, released its annual Elite 1% rating for apartment communities based on online reputation. More than 71,000 properties across all review sites are analyzed with only 977 properties earning the elite status. Thirteen DF Multifamily communities are in the top one percent with Old Donation Apartments of Virginia Beach, VA cracking the top 50 in the nation with a score of 94.
To be eligible for this ranking, a property had to register a minimum ORA score of 88 and have at least 15 online reviews across various review sites compared to the national average score of 59.7. DF Multifamily operates in the three of the top five states with the highest share of Elite 1% properties with apartment communities in Virginia, North Carolina and Florida.
"We take our resident reviews very seriously and to be recognized in the Elite 1% is quite an accomplishment," said Tarra Secrest, Director of Marketing & Property Development. "We appreciate our residents and we are committed to having the best on-site teams in the industry."
13 Drucker + Falk managed apartment communities join the ranks of the Elite 1% in the nation:
Andover Apartments Norfolk, VA
Barclay Place Apartments Wilmington, NC
Colonial Pines Apartments Williamsburg, VA
Haygood Halls Apartments Virginia Beach, VA
Old Donation Apartments Virginia Beach, VA
Saddlewood Apartments and Townhomes Richmond, VA
The Chapman Apartments Hampton, VA
The Chase Apartments Burlington, NC
The Crossings at Red Mill Apartments Virginia Beach, VA
The Franklin Raleigh, NC
The James Norfolk, VA
Venture Apartments in Tech Center Newport News, VA
The Wainwright Norfolk, VA
The evaluation is based on monthly online reputation score that is aggregated and analyzed to generate a single score on a scale of 0 to 100. This score serves as a nationwide benchmark to compare and contrast a company's individual properties and portfolios against its competitors. The statistical model developed by J. Turner Research, a leading apartment industry research firm.
"Consistently having our communities recognized by our residents for the excellent service provided by our on-site people is the foundation of our continued growth," added Jim Ledbetter, President of Drucker + Falk.
ABOUT DRUCKER + FALK
Founded in 1938, Drucker + Falk is a full service real estate and investment firm managing a diverse portfolio of more than 30,000 apartment homes and approximately 3,000,000 square feet of office, retail and industrial space in nine states. In addition to managing a broad range of properties, including class A+ to affordable apartment communities, mixed-use and all types of commercial properties, Drucker + Falk partners with clients on developing new properties, renovating and repositioning assets, converting historic properties to unique, upscale apartment homes and offers commercial leasing and sales services. For more information see http://www.druckerandfalk.com.