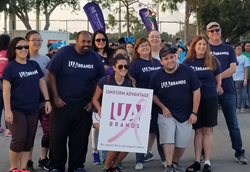 We are honored to have participated this year and to support the fight against cancer
Fort Lauderdale, FL (PRWEB) April 18, 2018
Uniform Advantage(UA), a multi-channel retailer of uniforms for healthcare and hospitality industries participated as sponsors in the American Cancer Society's Relay for Life in Plantation, FL on April 13.
Relay for Life is the signature fundraiser for the American Cancer Society. It is a grass roots, community-based team event - staffed and coordinated by volunteers in thousands of communities and 27 countries. Relay for Life is a team fundraising cancer walk event where members take turns walking around a track or designated path. Each event is 6-24 hours in length and each team is asked to have a member on the track at all times to signify that cancer never sleeps.
This was UA's third year sponsoring and participating in Relay for Life. UA exceeded their goal of a $5,000 donation via employee-led fundraisers.
"Cancer has affected each one of us in some way. Uniform Advantage will continue to support philanthropic events like the American Cancer Society's Relay for Life. We are honored to have participated this year and to support the fight against cancer." said UA's Vice President of Marketing, Lori Dunlap.
Being a uniforms and medical scrubs supplier in the healthcare industry, UA understands and supports the mission of the American Cancer Society to free the world from cancer by funding and conducting research, sharing expert information, supporting patients, and spreading the word about prevention.
Alongside of participating in these events, Uniform Advantage carries Awareness Print Scrubs. Join UA in supporting the fight against cancer at uniformadvantage.com and learn more about Relay for Life.
About Uniform Advantage
Uniform Advantage has represented style, quality and, above all, customer satisfaction for more than 30 years. As the first division of UA Brands, the chain was launched with a single South Florida store in 1985. Today, the company operates 29 retail locations in key markets across the U.S.; e-commerce and print catalog divisions; plus, designs and manufactures its own proprietary healthcare apparel lines. The company's corporate office is based in Fort Lauderdale, Florida with a distribution center near Atlanta, Georgia. Learn more at http://www.UniformAdvantage.com or by calling 800-283-8708.