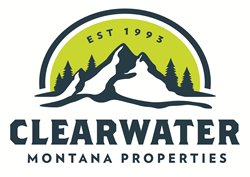 These individuals are market leaders with a deep-rooted commitment to their clients and local communities.
SEELEY LAKE, Mont. (PRWEB) April 19, 2018
Clearwater Montana Properties recently celebrated its 2017 achievements with the announcement of its top producers during the company's annual Revival conference. The company, which has more than 90 real estate professionals across 30 offices in Montana, Idaho, Washington, and Wyoming, honored the top ten producing agents during an awards dinner and ceremony in Helena, MT. Clearwater's agents, managers, support staff, executives, and spouses assembled in a grand room of an upscale Helena hotel as Chief Executive Officer Kevin Wetherell announced the awardees and provided words of inspiration to all present. Clearwater was founded in 1993 and has experienced steady and robust growth - eventually becoming the largest real estate brokerage in the state of Montana in terms of office locations. In 2018, Clearwater celebrated its 25th anniversary and its position as the No. 1 leader in overall sales in many of its operating markets.
"Clearwater's associates are, on average, more productive than a majority of other real estate brokerages in our markets. Consequently, we are able to achieve higher sales with fewer associates than most other firms." said CEO Kevin Wetherell, adding "This also means, however, that the top producer award is extremely competitive." The company confirmed that in past years, the difference between achieving a spot in the top 10 and failing to do so came down to a few hundred dollars. "Being ranked in the top 10 of all associates within Clearwater is an extraordinary achievement," said Chief Operating Officer Shaun Lewis. "These individuals are market leaders with a deep-rooted commitment to their clients and local communities."
The 2017 Overall Top Producer was Patrick Pacheco, a broker for Clearwater's Bigfork, MT office. Joining the company in 2009, Pacheco has consistently been a top producer for Clearwater, but 2017 marks the first time that he has broken into the top spot. Pacheco also bears the distinction of being the No. 1 agent worldwide for Sports Afield Trophy Properties, Clearwater's exclusive partner for marketing recreational property, since 2013. Pacheco credits his stellar sales record to a commitment to perfect the art of articulate and aggressive negotiation skills. "I have always thought, I have a buyer that wants to buy and I have a seller that wants to sell….there is a deal here." In addition to his extensive sales experience and tremendous knowledge of current real estate markets, Pacheco believes in developing life-long relationships with his clients. "You wouldn't want a first-year surgeon to operate on you, or a first-year attorney to represent you, so why trust an inexperienced real estate agent who is not familiar with you to help with the purchase of your next property?" Pacheco attributes his overall success to his ambition to always be the best, to his dedicated business partner, and to Clearwater for giving him the support to "do what he was born to do…..sell a Montana lifestyle, as equally perfect as his own." CEO Kevin Wetherell agreed that Pacheco's unparalleled drive is a key factor of his success, adding "Patrick will absolutely not quit until he exhausts every possible opportunity to satisfy his clients wishes. Patrick's drive is unmatched and unchallenged with a history of hundreds of transactions and with a sales portfolio value of hundreds of millions in real estate dollars." In addition to Pacheco, nine other associates received a Top Producer award:
2017 Clearwater Top Producers:
1. Patrick Pacheco - Bigfork, MT
2. Kevin Wetherell - Seeley Lake, MT
3. Deb Whitcomb - Helena, MT
4. Jeannette Carr - Noxon, MT
5. Ed Silverstein - Georgetown Lake, MT
6. Scott Kennedy - Seeley Lake, MT
7. Carol Tibbles - Polson, MT
8. Wayne Heaton - Whitefish, MT
9. Ed Churchill - Philipsburg, MT
10. Shawna Norry - Libby, MT
The company said it is proud to have some of the best real estate professionals in the industry, and that these extraordinary individuals are the foundation upon which the company's success is based. "We commend all of our Clearwater associates for their superior professionalism and commitment," said Clearwater COO Shaun Lewis. "Their dedication to providing clients with exceptional service - day in and day out - is the reason why Clearwater is among the most trusted names in real estate."
Founded in 1993, Clearwater Properties is Montana's largest real estate brokerage firm and the #1 Sports Afield Trophy Properties brokerage in the world. In 2017, Clearwater Properties was awarded the prestigious "America's Best Brokerages" award by Land Report. With a network of over 30 offices across Montana, Idaho, Washington, and Wyoming. Clearwater focuses on providing quality customer service, superior market knowledge, and giving back to the communities we serve. Visit Clearwater at CMPMontana.com or at Clearwater's Facebook page.