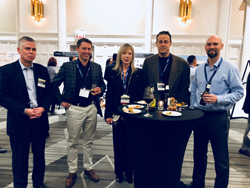 SAN DIEGO (PRWEB) April 18, 2018
ACEA Biosciences, a biotechnology company that develops high performance cell analysis instruments, hosted their 6th annual Cancer Immunotherapy Symposium focused on CAR-T cell and TCR therapy on April 14, 2018 at the W Hotel in Chicago, prior to the 2018 AACR Annual Meeting. Distinguished speakers from Fred Hutchinson Cancer Center, Minerva Biotechnologies, Mustang Bio, Promab Biotechnologies, Precision Biosciences, and Thomas Jefferson University presented their most current research in Chimeric Antigen Receptor (CAR) T cell and engineered T Cell Receptor (TCR) therapy. The scientists in attendance were also given a preview of new ACEA Biosciences products for immunotherapy research, including the AccuWound® 96 scratch tool and the RTCA-Pro Immunotherapy Software.
Summary of Presentations
Dr. Adam Snook, a junior faculty member from Thomas Jefferson University in the Sidney Kimmel Medical College, shared his latest research on guanylyl cyclase C (GUCY2C) as a novel target for immunotherapy in colorectal cancer. He presented preclinical data showing the effectiveness of GUCY2C CAR-T cells against colorectal cancer, the 3rd leading cause of cancer-related deaths in the world.
Dr. Kristin Anderson, a Postdoctoral Research Fellow from the Phil Greenberg lab at the Fred Hutchinson Cancer Research Center, is developing molecular engineering strategies to improve tumor killing in ovarian cancer with genetically engineered cells. She presented data showing engineered T cells expressing a mesothelin-specific TCR can kill human ovarian tumor cell lines and cells from the mouse ID8 tumor model; additionally, that the adoptively transferred TCR-engineered T cells prolonged mouse survival.
Dr. Vita Golubovskaya, Director of Research and Development at Promab Biotechnologies, a biotechnology company that develops and commercializes recombinant proteins, antibodies, and engineered cell lines, presented data showing engineered cytotoxic CAR-T cells with decreased cytokine secretion, overcoming Cytokine Release Syndrome (CRS). Her team engineered CAR-T cells to decrease cytokine secretion while maintaining the same cytotoxic activity, generating safer CAR-T cells with less CRS against hematological and solid cancers.
Dr. Sadik Kassim, the Vice President of Process and Analytical Development at Mustang Bio, discussed the most common analytical challenges with measuring efficacy of CAR-T cell therapy for solid and liquid tumors using compelling case study examples. Dr. Kassim proposed new strategies for rapid development of safer and more effective CAR-T therapies. Mustang Bio is a clinical stage biotech company focused on the development of novel CAR-T therapies in partnership with the City of Hope National Medical Center and the Fred Hutchinson Cancer Research Center.
Dr. Cynthia Bamdad, CEO of Minerva Biotechnology, presented new methods for studying CAR-T cells targeting cleaved Mucin 1 (MUC1*), an overexpressed protein common with a variety of cancers. Her team used the xCELLigence technology to simultaneously test 576 conditions in 2 months, and rapidly assessed 60 different CAR constructs to choose a clinical lead. Her data showed that the "xCELLigence was faster and more accurate than FACS [and the] xCELLigence in vitro data perfectly predicted the effect of the CAR-T cells in vivo."
Dr. Mark Johnson, the team leader of the Cell Therapy Discovery group at Precision Biosciences, presented new methods for the optimization of nucleases for gene-editing in CAR-T cell manufacturing. His group developed allogeneic CAR-T cells using Precision's proprietary ARCUS technology, and their current goal is to improve the efficacy, persistence, and specificity of CAR-T cell therapies. His data showed increased cytolysis of target cells using CAR-T cells made with two optimized nucleases, and in vitro functionality that correlated with CAR gene insertion during cell manufacturing.
About xCELLigence® RTCA Instruments
xCELLigence Real-Time Cell Analysis (RTCA) instruments utilize gold biosensors embedded in the bottom of microtiter wells to non-invasively monitor the status of cells using the principle of cellular impedance. In short, cells act as insulators – impeding the flow of a miniscule electric current between electrodes. This impedance signal is measured automatically, at an interval defined by the user, and provides an extremely sensitive readout of cell number, cell size, cell-substrate attachment strength, and cell invasion/migration. xCELLigence RTCA instruments are being used in both academia and industry for basic and applied applications ranging from cancer immunotherapy and cardiotoxicity to drug discovery and viral titer determination. To date xCELLigence has been used in more than 1,400 publications, which can be viewed in a searchable library.
About ACEA Biosciences
Founded in 2002, ACEA Biosciences is a pioneer in the development and commercialization of high performance, cutting edge cell analysis platforms for life science research. ACEA's xCELLigence impedance-based, label-free, real-time cell analysis instruments and NovoCyte® flow cytometer are used in pre-clinical drug discovery and development, toxicology, safety pharmacology, and basic academic research. More than 2,000 instruments have been placed globally.
For more information visit http://www.aceabio.com
Follow on LinkedIn, Twitter, and Facebook
For further information please contact:
ACEA Biosciences, Inc.
Dr. Jeff Xue
Phone: 858-299-8023
email: jxue(at)aceabio(dot)com