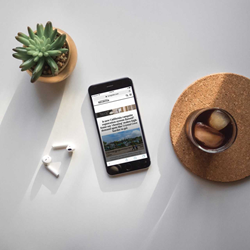 NEWPORT BEACH, Calif. (PRWEB) April 19, 2018
Orange County's leading residential real estate brokerage and one of the nation's top brokerages by sales volume, Surterre Properties, today announced that it has launched a new digital advertising platform, Surterre AdReal. Designed specifically with busy real estate professionals in mind, Surterre Ad Real delivers advanced digital advertising solutions to agents with one-click convenience. As a result, Surterre Properties' listings benefit from the superior exposure gained from most effective advertising campaigns, while the firm's agents are empowered to focus on what they do best — serving as trusted advisors to their clients in the purchase and sale of homes.
"Surterre Properties continues to be known for harnessing the power of technology in new and exciting ways, developing innovative solutions for the residential real estate sector," says the company's Co-Founder and CMO, Paula Ansara-Wilhelm. "Created by the experts at our in-house ad agency, Surterre Studio, Surterre AdReal represents years of digital advertising research and best practices — and places this knowledge and power within the touch of a button for our agents."
Surterre AdReal's proprietary digital advertising platform includes a customized, proven mix of Google and Facebook advertising that, when deployed, ensures each Surterre Properties listing reaches targeted groups of qualified prospects. In addition to programming and placing the ads, the program also monitors the ads' efficacy, providing valuable metrics to agents and their clients.
"Today, more than 90% of all real estate transactions begin with an online search, making digital advertising one of the most important marketing strategies in the residential market," says Ansara-Wilhelm. "We've taken what has been a time-consuming and sometimes confusing process for agents and engineered it in a way to make it incredibly simple and effective. Surterre AdReal is a transformative solution — and one that's only available at Surterre Properties."
About Surterre Properties
Founded in 2006, Newport-Beach, California-based Surterre Properties is Orange County's leading residential real estate brokerage firm and one of the leading brokerages in the nation, by sales volume. Surterre achieved more than $2.7 billion in sales in 2017, and encompasses 400 real estate agents, 65 employees and six offices throughout the region. Surterre's success is due to its unique and dynamic culture, where the most accomplished real estate professionals work cooperatively. In addition, the firm is known for its innovative use of technology and market-leading advertising, both of which are spearheaded and created by the experts at Surterre Studio, which is one of the only in-house advertising agencies in the industry. Through its international partnerships, community involvement and commitment to a healthy environment, Surterre Properties continues to set itself apart from — and above — the competition.