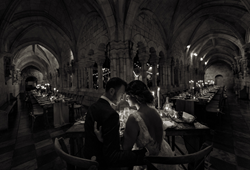 It was upgraded to be more user-friendly and mobile-friendly, and includes weekly, live interactive broadcasts. The educational website helps new and experienced photographers.
LAS VEGAS (PRWEB) April 18, 2018
Jerry Ghionis, regarded as one of the top five best wedding photographers in the world who has been shooting professionally for over 25 years, recently relaunched a photography training website, Jerry Ghionis Photography Training, after celebrating its tenth anniversary. The goal is to provide photographers all over the world with quality education on an online platform, helping them become better wedding and portrait photographers. Jerry's street smart and "easy-to-understand" style of teaching has helped countless photographers become more profitable and live with a more balanced lifestyle.
"There is ten years' worth of content on the site," said Ghionis, who was named by Photo District News (PDN) as one of the world's top photography instructors and is a Grand Master of Wedding & Portrait Photographers International (WPPI) and the Australian Institute of Professional Photography (AIPP) in Australia. "It was upgraded to be more user-friendly and mobile-friendly, and includes weekly, live interactive broadcasts. The educational website helps new and experienced photographers. So many of our members use it as a source of inspiration and education before a shoot and become my 'virtual assistant' to watch an experienced photographer at work."
The training site also includes real weddings, portrait sessions, fashion shoots, boudoir sessions, posing tips, lighting techniques, photo walks, gear and techniques, sales, business and marketing sections, critiques, post-production and more. Students watch and learn from real behind-the-scenes wedding, portrait, fashion and boudoir shoots and also engage in a private Facebook group that has been created just for members.
"This is the absolute best training course on the internet for wedding and portrait photographers and more. Hands down!" said JGPT member, John McDonald. Fellow JGPT member, Gale Schoenecke, stated, "You have made the greatest impact on my shooting more than anyone else over the past 17 years. Your creativity and encouraging others to grow and see in a different way blows my mind!"
Jerry Ghionis is one of the first photographers to create an online educational platform. He has also been teaching for 18 years and is a Nikon ambassador. To subscribe to Jerry Ghionis Photography Training, visit https://www.ghionis.com.
About Jerry Ghionis
Jerry Ghionis is arguably the most awarded wedding and portrait photographer in the world and is celebrated as one of the most influential wedding photographers and educators in the industry. Inventor of the Ice Light, a revolutionary LED continuous light and the Omega Reflector, the world's first 15-in-1 shoot-through reflector, Jerry and his wife Melissa also created the non-profit charity the Soul Society, which cares for poor, homeless and orphaned children in third world countries, one soul at a time. With the flair of a fashion designer and the ingenuity of an architect, his style can best be described as vintage glamour meets contemporary fashion. For more information, please call (866) 505-3064 in the US, +61 3 8587 7155 in Australia, or visit http://www.ghionis.com.
About the NALA™
The NALA offers small and medium-sized businesses effective ways to reach customers through new media. As a single-agency source, the NALA helps businesses flourish in their local community. The NALA's mission is to promote a business' relevant and newsworthy events and achievements, both online and through traditional media. The information and content in this article are not in conjunction with the views of the NALA. For media inquiries, please call 805.650.6121, ext. 361.