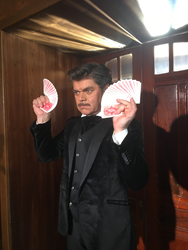 "Fortuneteller" is a soft, laid back composition that accentuates the sensitive vocals of Marius Holth. Holth's compositions are primarily influenced by great singer-pianists like Billy Joel and Elton John, as well as Belgian singer Jacques Brel. -Rootstime
NEW YORK (PRWEB) April 23, 2018
Marius Holth is a Norwegian singer/songwriter with a dynamic voice and unique musical sensibilities. His new video single "Fortuneteller" is written around the theme of "the one that got away" and contains musical storytelling that combines a personal approach with a timeless touch. The idea behind the video is to create an atmosphere that evokes a sense of nostalgia and Italian elegance. In this way the film tells the story of "Fortuneteller" without always showing it in explicit images.
"Fortuneteller" was filmed in Bar Bellini in Grunerløkka, Oslo, a site famous for its authentic Fellini-esque style. Also featured in the video is the internationally famous Noewegian magician Davido. He has appeared in numerous Circuses and TV Commercials and is well-known for his mastery of traditional magic tricks.
The video was recorded and produced by Norwegian cinematographers Erlend Sæverud and Baard Eek. The multi-talented Erlend has also been involved in arranging Holth's songs and was once a music producer. But Erlend decided to focus on street photography and has become one of Norway's hottest names behind a camera. Baard Eek has been one of the leading fashion photographers in Norway for the past 30 years.
Besides writing and performing his own music, Marius Holth was also lead singer in the internationally-acclaimed musical "Barcelona," in which he performed songs by Freddie Mercury of Queen. The show's biggest audience was in Montreux, Switzerland, where Holth belted out Mercury's music to thousands of Queen fans from all over Europe. Marius has also worked with many established producers and musicians, including Jan Erik Kongshaug, who is recognized as one of the leading sound technicians in the world.