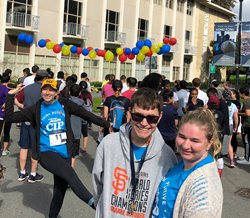 Volunteering makes me feel like I am participating in my community in a meaningful way
Lee, MA (PRWEB) April 23, 2018
From family festivals to 5K runs, CIP students across the country volunteered at a variety of events in April to help shine a light on autism acceptance. April is Autism Awareness Month, now more commonly called Autism Acceptance Month. As the number of people being diagnosed with autism continues to rise, April has become an important time to recognize, accept and empower individuals on the autism spectrum.
CIP is a national transition program for young adults on the autism spectrum and with other learning differences. Students at each of their five locations volunteered at events in their local communities to help raise awareness and acceptance of autism.
In California, CIP Berkeley students volunteered at a 3K Walk/5K Run organized by Spectrum: Autism at Cal, a UC Berkeley student-run organization. CIP students, staff and alumni participated in the walk which zigzagged through the UC Berkeley campus.The event featured acapella singing groups, a photo booth, and several activities focused on raising autism awareness and acceptance."Seeing all these people come together to walk for a cause near and dear to my heart, is amazing and fun," stated CIP Awareness Chair Lauren M.
In Massachusetts, CIP Berkshire Student Glee Club and Drama Club volunteered to perform at AdLIB, a non-profit organization in downtown Pittsfield, Massachusetts. Glee Club members sang "Ah Poor Bird / Rose, Rose" and performed a scene that members have been developing for a one-act play called "Our Own Normal." The play focuses on bullying and feelings of isolation that can occur with students with autism. The event also included a rendition of CIP student Danielle's original song entitled "Anxiety." Danielle wrote "Anxiety" to help make others aware of what it is like to experience anxiety in conjunction with autism.
"The student performances were very powerful and elicited an emotional response from many of the audience members who related to the themes in the pieces," commented attendee Abby Powers, CIP National Director of Admissions.
Students at CIP Long Beach in California helped community partner "Life's Toolbox" with an exhibit table at the Orange County Fairgrounds event called "STEM and the Arts Fair Career Showcase." CIP students showed children with autism how to plant a variety of flowers and vegetables. The activity was designed to help children attending the fair with hand-eye coordination, fine/gross motor skills, decision making, and communication.
"Volunteering is valuable to me because you get to help people, make connections for your career and it gives you the experience you need," stated CIP Long Beach student Sean M.
Wearing bright blue commemorative shirts, CIP Bloomington students in Indiana volunteered with the Bloomington Parks Department. Students worked on trail maintenance, compiled key data about park usage, and shared trail concerns with the parks department.
"I like volunteering and showing people how Autism Acceptance Month promotes more understanding and compassion for people on the spectrum," commented student Cody R. "Being a trail ambassador makes me feel like I am actively participating in my community in a real and meaningful way," he continued.
With the help of CIP Brevard students, staff and several other organizations, Brevard Pals (Providing Autism Links and Supports) hosted the annual Brevard PALS Family Festival in Melbourne, Florida. The event was attended by over 500 families affected by autism who enjoyed a family day of dancing, demonstrations, face-painting, a petting zoo, and music. CIP student and staff volunteers pitched in to help manage games, provide general assistance, and clean-up at the conclusion of the event.
As CIP students across the US work to help others accept people with autism, they also benefit from the positive effects of volunteering and giving back in their own communities. Volunteering helps students learn the value of teamwork, time management, and social skills.
The Centers For Disease Control (CDC) estimate that one in 68 people are diagnosed with autism. Each year, 50,000 students with autism graduate from high school in the US. Many of these young adults need comprehensive support as they transition to college, the workplace and independence.
For more information about CIP's year-round and summer programs, visit http://www.cipworldwide.org or call 1-877-566-9247.