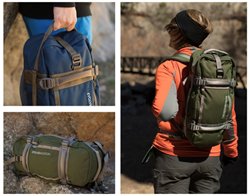 Spring is here and adventure is calling. Our lives are busy, our workload is steep, and it's hard to manage it all. The EmPack Nomad is about using the WORLD as your gym, getting you outside and in sunshine...getting you strong outside four walls.
DENVER (PRWEB) April 17, 2018
The EmPack Nomad, a revolutionary hiking and adventure fitness pack, allows wearers to turn the world into their personal gym. The campaign is now live and trending fast on global crowdfunding platform Kickstarter, blowing past its initial raise goal in less than 12 hours.
Invented by renowned athlete and trainer Emily Schromm, the EmPack is a more compact follow-up bag to the groundbreaking EmPack bag which was successfully funded on Kickstarter in 2015. The EmPack Nomad transforms the traditional backpack into a fully functioning workout machine.
"The light bulb for the EmPack came to me when I was at the CrossFit Games in Carson. I was stuck in a hotel with absolutely no gym, and I was desperate to workout. I didn't just want to do typical bodyweight movements, like air squats and burpees: I wanted to lift!" says Schromm on the inspiration behind the project. "So, I took a suitcase, stuffed it with everything I could find in the hotel room, and I lifted. The straps hit my face and the handles were painful BUT it was tough, I was sore, and it made me realize that I needed to create something that not only would allow for amazing, effective workouts wherever you were, but could help my clients easily increase weight as they got stronger without spending a fortune on equipment."
The EmPack Nomad is a hydration pack and weighted vest, with removable straps allowing it to become a portable weight training device. The bag is durable and versatile, able to withstand serious outdoor adventures and weight training. Wearers can add up to 15 pounds of unstable water weight to turn their hiking pack into the perfect weighted workout device.
The EmPack Nomad also includes a free workout guide created by Schromm. Workout exercises include everything from shoulder presses, lat raises, wall balls, side lunges, weighted pistols and more. The best part is each of these workouts can take place anywhere, allowing users to free their fitness while turning the world into their own personal gym.
"Spring is here and adventure is calling. Our lives are busy, our workload is steep, and it's hard to manage it all. The EmPack Nomad is about using the WORLD as your gym, getting you outside and in sunshine...getting you strong outside four walls," adds Schromm
The EmPack Nomad is currently live and available to support on Kickstarter: https://kck.st/2GXmpbJ
About EmPack
Unleashed Fitness Founder, CrossFit Coach & competitor, Health & Wellness Coach, Women's Health Magazine's "The Next Fitness Star". Inventor of The EmPack. For more information on Emily Schromm and the EmPack please visit: https://theempack.com