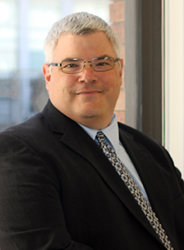 MedSpeed is already a leader in this space, but in some ways we are just beginning to uncover the many ways we can support our customers and their patients. I am very thrilled to join the leadership team in pursuing the MedSpeed mission to deliver health in the communities we serve.
ELMHURST, Ill. (PRWEB) April 19, 2018
MedSpeed, a U.S. market-leading provider of healthcare intra-company logistics, has named Dan Blake as chief technology officer (CTO). Blake brings more than two decades of senior executive experience in the design, development and implementation of large scale, operationally complex systems to his new position.
"With his deep experience in applying technology to drive customer value, particularly within healthcare, Dan is the perfect choice to lead MedSpeed's next generation of technology," said Jake Crampton, MedSpeed CEO. "Our continued investment in technology empowers MedSpeed to deliver innovative intra-company logistics that enable our healthcare clients to standardize and centralize operations, use logistics as an asset to drive efficiency and improve patient care."
Blake has a history of leading technology organizations, merging innovation and technology to create value. Most recently, he served as CTO at Valence Health. He was the founder and President of ArchiStrat Consulting Inc. where he helped organizations maximize enterprise-wide operational efficiency via web and mobile technologies. Previously, Blake was the chief development officer at AirStrip Technologies, a healthcare mobile technology firm, and CTO at Aon Technologies, a $6 billion insurance and financial services organization. He holds a Bachelor of Science degree in applied computer science and business from Illinois State University.
"MedSpeed is already a leader in this space, but in some ways we are just beginning to uncover the many ways we can support our customers and their patients," said Blake. "I am very thrilled to join the leadership team in pursuing the MedSpeed mission to deliver health in the communities we serve."
About MedSpeed
Healthcare is changing. Healthcare organizations are growing and care continues to expand outside of the four walls of the hospital. This growth provides more capacity to utilize scale to create healthcare companies that are better functioning, smarter organizations. Intra-company - the enterprise-wide movement of physical materials, such as blood and specimens, pharmaceuticals, supplies, equipment, print, mail and more - is the foundation of the healthcare supply chain. Every health system needs transportation for its clinical operations to function. MedSpeed is the market-leading organization that is changing the way the healthcare industry views healthcare logistics by leveraging it to help health systems and other healthcare organizations integrate. MedSpeed treats transportation as a strategic asset that works as a means to achieving greater operational efficiencies, reducing risk, more effectively utilizing scale, eliminating redundancies and centralizing services. http://www.medspeed.com