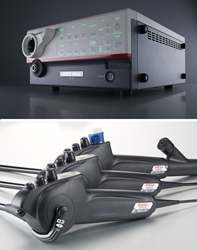 "I'm highly impressed with the progress in technology which has allowed the marriage of high-definition endoscopy in a very slim package that not only affords excellent visualization of the laryngopharyngeal tissues but [offers] a far more comfortable and maneuverable instrument." -Craig Zalvan, MD
MONTVALE, N.J. (PRWEB) April 18, 2018
PENTAX Medical, a healthcare industry leader in diagnostic and therapeutic endoscopy and globally renowned in the specialties of speech, voice, and swallowing, has announced the U.S. launch of the J10 Series Video Naso-Pharyngo-Laryngoscopes and the DEFINA EPK-3000 Video Processor.
The J10 Series includes a portfolio of three endoscopes to meet varied needs, the UltraSlim HD (VNL8-J10), the Slim HD (VNL11-J10), and the Therapeutic HD (VNL15-J10). This series offers vivid HD image quality via a next-generation CCD imaging chip that produces sharp, clear, high-definition images to support visualization of anatomy structure and detail. At the same time, these endoscopes provide improved patient safety and comfort with revolutionary components and advanced hygiene features. Within the J10 Series, specific highlights include innovative (single-use) suction control valves in the Therapeutic HD (VNL15-J10), and particularly of note is the UltraSlim HD (VNL8-J10) — it features a 2.4 mm distal end, which is the smallest distal end diameter on an HD video naso-pharyngo-laryngoscope currently available on the market.
"I am highly impressed with the progress in technology, which has allowed the marriage of high-definition endoscopy in a very 'slim' package that not only affords excellent visualization of the laryngopharyngeal tissues but [offers] a far more comfortable and maneuverable instrument [as well]. PENTAX Medical has set the bar with this flexible digital HD laryngoscope," said Craig H. Zalvan, MD, FACS, Chief of Otolaryngology and Medical Director of The Institute for Voice and Swallowing Disorders at Phelps Hospital, Northwell Health.
The DEFINA EPK-3000 video processor provides premium functionality with vivid HD image processing and i-SCAN™ enhancement technology, specifically housed in a light and compact system. It produces sharp, clear HD images of nasal, pharyngeal, and laryngeal anatomy, and PENTAX Medical i-SCAN™ combines Surface Enhancement, Contrast Enhancement, and Tone Enhancement algorithms to highlight topography, edges, and color tones to augment the visualization of blood vessels and surface anomalies.
When the DEFINA EPK-3000 video processor is used in conjunction with the J10 Series Video Naso-Pharyngo-Laryngoscopes, this combined system is an optimal platform for in-office assessment and therapeutic procedures. By integrating advanced image quality, improved comfort, and innovative safety features, the J10 Series and the DEFINA EPK-3000 video processor provide an effective and efficient system for Otolaryngologists and Pediatric ENTs, as well as Head and Neck, Cleft Palate, and a range of other specialists and their patients.
"PENTAX Medical is committed to advancing endoscopy with innovations that help improve clinical and economic outcomes and enhance patient and provider satisfaction," said David Woods, President, PENTAX Medical, Americas. "The DEFINA and J10 Series are further evidence of our dedication to introducing advanced endoscopic innovation for our provider partners and their patients."
PENTAX Medical will be displaying the J10 Series and the DEFINA at the Combined Otolaryngology Spring Meetings (COSM) in National Harbor, Maryland, from April 18 to 22, 2018. COSM is the premier educational and technology forum for providing the sub-specialties in Otolaryngology – Head and Neck Surgery with an opportunity to improve and expand their knowledge and skills, thereby enhancing the quality of patient care. For more information on this annual meeting, please visit: http://cosm.md/
About PENTAX Medical
PENTAX Medical is a division of Hoya Group. Its mission is to improve the standard of patient care and enhance patients' and providers' experience by providing the best endoscopic products and services with a focus on QUALITY, CLINICALLY RELEVANT INNOVATION, and SIMPLICITY. Through leading-edge R&D and manufacturing, PENTAX Medical provides endoscopy solutions to the global medical community. Headquartered in Japan, PENTAX Medical has a worldwide focus and presence with R&D, regional sales, service, and in-country facilities around the globe. PENTAX Medical employees represent the diverse countries where we do business, allowing us to provide innovative solutions tailored to meet local needs. For more information, visit http://www.PENTAXMedical.com/us/.