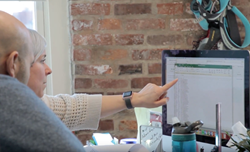 Those who are looking to turn their marketing efforts from a cost center into a profit center will benefit from our strategic consulting services. - Stefanie Daneau
BOSTON (PRWEB) April 18, 2018
Boston-based agency, Pepper Gang, announces new strategic consulting services that are aimed at businesses seeking help with their marketing efforts. Pepper Gang consulting offers tried and true marketing strategies, in depth understanding of one's business and target audience to provide guidance that will get them from point A to point B.
Their marketing experts will be offering a wide variety of consulting services including:

Social media
Digital advertising
Digital marketing
SEO, off-page and on-page
Blogging
General training
"We've always offered strategic consulting to our current client base, but now we're able to expand those services to new clients as well," said Director of Business Development, Stefanie Daneau. "Those who are looking to turn their marketing efforts from a cost center into a profit center will benefit from our strategic consulting services. At Pepper Gang, we have the years of experience and awareness of new strategy that will get your company back on track."
What businesses can expect from these new consulting services:

Top line growth
Reduced wasted spend
Turn marketing efforts into profit
For more information about their strategic consulting services and more, please visit the Pepper Gang website: https://www.peppergang.com.
About Pepper Gang:
Pepper Gang is the Boston-based digital marketing company committed to the growth and success of their clients' business. The company was born out of a desire to tell each brand's story in a way that compels like-minded consumers to align with the brand. Meet the Pepper Gang team and read their story at https://www.peppergang.com.