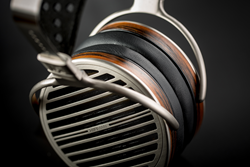 The Hifiman Susvara is a true statement design
BOSTON (PRWEB) April 17, 2018
"The Hifiman Susvara is a true statement design," says Steve Guttenberg in his CNET review of HIFIMAN's new Susvara headphone. In addition to featuring HIFIMAN's planar magnetic drivers which have evolved into the thinnest, lightest and most responsive on the market, the headphones benefit from impressive design elements that have become the standard for HIFIMAN products. Physical design elements such as the super-comfortable ergonomic suspended headband and distinct "Windowshade" grill that minimizes sound reflection are the result of HIFIMAN's work over many years with industrial design firm Catalano Design.
This week on its website, Catalano highlights its work with HIFIMAN to illustrate the lasting impact design guidelines can have on a company. During Catalano's very first projects with HIFIMAN - logo development and design of the HE1000 headphone - Catalano established design guidelines for work with HIFIMAN, which resulted in solutions that have become HIFIMAN design assets and details that have been adapted to subsequent products including the Susvara. Catalano emphasizes that design guidelines can enhance a company's brand recognition though evolution of high quality products that are efficiently and meticulously created to maintain presence in competitive markets. Read the full story here.
About Catalano Design
Founded in 1987, Catalano Design is an award-winning, full-service product design and development firm located in Boston, MA. The company fosters long term relationships by working closely with clients to understand their culture, their technology, and their markets. The company's philosophy is that good design is a careful balance of art, science, and craft supported by exceptional, user-centered research. This philosophy is expressed through a design process that focuses on user experience, ergonomics, out-of-the-box thinking, and sound execution.
Catalano Design has created successful designs for many clients who are recognized leaders in their respective markets, including Samsung, Herman Miller, Geiger International, Dexter Russell, D'Addario, Fishman, Hifiman, Essio, Zildjian, Russound, Boston Acoustics, Sunfire, Bay Audio, Pro Brand International, and the Institute for Human Centered Design. Catalano's work has been recognized by IDEA, the ID Magazine Awards, the European Product Design Awards, Business Week, Interior Design Magazine, Abitare, A Place to Sit Competition, and the International Furniture Design Competition. Learn more at http://www.catalano.design.