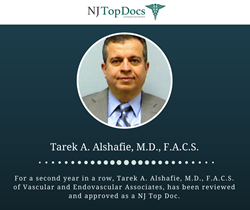 SCOTCH PLAINS, N.J. (PRWEB) April 23, 2018
NJ Top Docs is proud to present Dr. Tarek A. Alshafie for the second year in a row!
Dr. Alshafie has recently been reviewed and approved by the NJ Top Docs team. His practice, Vascular and Endovascular Associates consists of a team of professionals dedicated to providing the best quality healthcare. The environment is responsive and caring - everyone at Vascular and Endovascular Associates tries to understand the patient's health issues quickly so the correct treatment can be applied.
As a vascular specialist and surgeon, Dr. Tarek A. Alshafie treats a wide array of vascular issues. Below is a list of Dr. Alshafie's services:
Vascular Surgery
-Abdominal Aortic Aneurysm Repair
-Carotid Endarterectomy
-Arterial Bypass
-Arterial/Venous Thrombectomy/Embolectomy
-Arterial/Venous Thrombolysis
-Dialysis Access Procedures (AV Fistulas, AV Grafts, and Dialysis Catheters)
-Diagnostic Arteriograms/Venograms
-Arterial/Venous Angioplasty and Stent Placement
-Varicose Vein Therapy including Laser and Radio Frequency ablation, as well as Spider -Vein Injections
-Chemotherapy Port Placement and Removal
-Non-Invasive Vascular Imaging including Doppler Ultrasound
-Subclavian artery bypass and reconstruction
-Amputations (Toe, Forefoot, Below the Knee, and Above the Knee)
Vascular Laboratory Testing and Treatment
-Upper Extremity Arterial Duplex
-Lower Extremity Arterial Duplex
-Upper Extremity Venous Duplex
-Lower Extremity Venous Duplex
-Upper Extremity Vein Mapping Duplex
-Lower Extremity Vein Mapping Duplex
-Carotid Artery Duplex
-Aortic Duplex
-Renal Artery Duplex
Endovascular Treatments
-Endovascular Repair of Abdominal Aortic Aneurysm (EVAR)
-Carotid Artery Stenting
-Peripheral Artery Disease ( PAD)
-Endovenous ablation for venous insufficiency
-IVC Filter Placement/Removal
With Dr. Alshafie's extensive education and training background along with his list of prestigious accolades and stellar patient reviews, it's no surprise that he remains a NJ Top Doc for another year.
For more information about Dr. Alshafie or Vascular and Endovascular Associates, please click the following link: https://njtopdocs.com/nj-doctors/tarek-alshafie-m-d-f-c-s/
----
About Us
NJ Top Docs a comprehensive, trusted and exclusive healthcare resource featuring reviewed and approved Top Doctors and Dentists in New Jersey online in an easy to use format. NJ Top Docs only reviews and approves providers based on merit after they have been extensively vetted.
NJ Top Docs is a division of USA Top Docs which allows patients to meet providers online before making their appointment.
For more information, please click here to contact us or visit http://www.NJTopDocs.com.