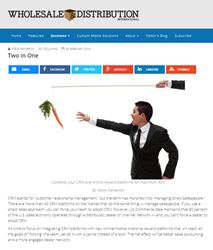 ATLANTA (PRWEB) April 25, 2018
According to a new Wholesale & Distribution International article authored by Incentive Solutions CEO Steve Damerow, the key to better sales accounting and a more engaged dealer network is to integrate CRM platforms with those featuring new online/mobile incentive rewards.
The first step is to create and communicate your expectation of "good adoption" by segmenting users by your objectives. Establish key performance indicators (KPIs) for each segment and use CRM platform as a "tutorial" to communicate KPIs. Measure who is doing what, how much and how often—and use performance tracking features within CRM as means of quantifying goals. You can also engage "pick lists" and rules of validation to promote timeliness and quality.
"The info is only as good as the quality and timeliness," Damerow says. "Penalize for poor performance and bind compensation with proper adoption. Compensation should have a direct correlation with segmented KPIs. Pay for performance!"
The next key step is to reward the proper route to sales by integrating a mobile/online point program that immediately rewards goal attainment. New non-cash point program reward platforms offer users a choice of hundreds of gift cards all wrapped into a single dashboard. Determine what will motivate best above the normal cash compensation and reward often and openly. You can spur competition via leaderboards, while gamification can be utilized to create a sense of "Vegas-type" big winners.
"The key is immediacy, flexibility and transparency with your participants. The beauty of online/mobile platform-based programs is the ability to load a cyber currency immediately for fulfillment. To ensure flexibility, make it clear that your rules will evolve as your corporate objectives change," explains Damerow.
The Wholesale & Distribution International article emphasizes that combining CRM and online reward incentive platforms will achieve maximum ROI for your wholesale/distribution business if you incentivize the recipient and gain the dealer salesperson mindshare. The key is to promote adoption and engagement by making the program both rewarding and easy to use.
About Incentive Solutions
Incentive Solutions, Inc., founded in 1994 and based in Atlanta, GA, offers online rewards, travel incentives and gift card rewards. Since its creation, Incentive Solutions has focused on delivering more than just rewards, innovating the incentive industry by utilizing emerging online technologies. Acting as valued partner and trusted advisor to clients, they help organizations increase sales, motivate employees, build customer loyalty, create positive work environments and improve channel sales relationships.
Incentive Solutions
2299 Perimeter Park Drive, Suite 150
Atlanta GA 30341
1-770-457-4597
1-866-567-7432
http://www.incentivesolutions.com