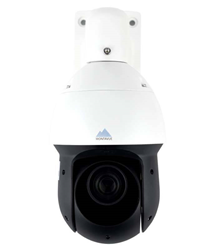 "We feel like we have a PTZ camera that will fit any application or budget, from 4x zoom with audio to 25x zoom with 550ft of IR night vision"
MISSOULA, M.T. (PRWEB) April 18, 2018
Fresh off the the release of their new 4MP fixed lens cameras, Montavue Surveillance has just unveiled their new line of 4MP 2K Pan Tilt Zoom cameras. The new MTZ4040 and MTZ4120-IR PTZ cameras feature a 4x and 12x zoom respectively. These new PTZ cameras both feature Montavue's signature color night optics to provide outstanding video when the sun goes down. Montavue is again proving that as they continue to grow they will stay ahead of the competition with the some of the highest resolution PTZ cameras on the home and small business surveillance market.
The new Montavue MTZ4040 4MP 4x zoom PTZ camera is replacing its predecessor, the 2MP MTZ2040. The most obvious improvement between the new and old version is the resolution, the new MTZ4040 features twice as many pixels in order to boost the resolution from 1080p to 2K. This will give the consumer better quality live viewing and more importantly, finer details on recorded footage. To the technically disinclined the other features may not be as obvious but that makes them perhaps even more important. The MTZ4040 has the ability to record 2k video at 30 frames per second. Most 4MP cameras on the market can only record at 20 fps, 30 fps footage is considered real-time recording and provides incredibly clear video of moving objects.
The next big difference may be impossible to detect with your eye, but valuable nonetheless. Montavue was able to feature H.265 compression capabilities to top off the visual improvements to it's smallest outdoor PTZ camera. The MTZ2040 featured H.264 compression, due to the updated compression the new cameras feature, recorded footage will now take up 25-50% less space on your hard drive, allowing you to store more footage without having to pay to upgrade your NVR storage.
With the addition of the new 12x MTZ4120-IR, Montavue now has one of the largest selections of pan tilt zoom cameras on the market. Like the MTZ4040 the MTZ4120-IR features the ability to record 2K video at 30 frame per second while utilizing the same H.265 compression. This camera also has tremendous ability at night, as it features 300 feet of IR night vision.
With the introduction of these cameras, Montavue now offers a total of four pan tilt zoom cameras. "We feel like we have a PTZ camera that will fit any application or budget," said President Cody Gordon. With optical zoom capabilities ranging from 4x to 25x, and the prices of their PTZ cameras ranging from around $200 to $650, Montavue provides an option for their customers no matter what their budget or job may be.
These cameras and many others, as well as complete camera systems can be found on Montavue's website at http://www.montavue.com.