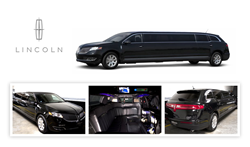 Just as words evolve over time, so has the car service field,
LOS ANGELES (PRWEB) April 20, 2018
An April 3 article on Jalopnik goes into the backstory of some of today's most widely used English automotive words, including "limousine." According to writer Jason Torchinsky, the word began with the city of Limoges in France. It then evolved into the French word "limousin," which referred to a rain garment that included a cloak that happened to look like the hooded portion of a large luxury vehicle where chauffeurs typically drove; it then finally became the modern English word and its popular abbreviation, "limo." California and New York-based KLS Limousine Services says that, just as words evolve over time, so has the car service field, where today customers benefit from unparalleled vehicle choices, luxurious amenities that royalty of the past could have barely imagined, and superb service aided by the latest in high-tech.
From the mid-20th century until fairly recently, limousine dispatchers and drivers could only communicate by various types of telephones and radio transmissions, says KLS. The firm notes that it has staked a place for itself on the leading edge of car service communication; it has invested over $150,000 into creating new smart phone apps that provide drivers with the kind of instant communication that can ensure the rapid flow of communication. With these apps, chauffeurs are able to minimize delays and make sure that they are able to arrive on time and transport passengers to their destinations in a timely and enjoyable manner, says KLS.
KLS says that, while the technology that has led to Uber and Lyft has significantly cut into the bottom line of many car services, it has been able to thrive and grow. The firm credits its continued success to its focus on high-end service and its capacity to handle all types of jobs, from extremely large events like the Academy Awards and the Coachella music festival, to conventions and corporate travel, as well as weddings, bachelor/bachelorette parties, and other private parties.
The limousine service adds that that it caters to a broad range of clientele in Los Angeles, San Francisco, and New York, that naturally includes show business celebrities and other high-profile individuals. However, the firm says that businesses and individuals who have to keep an eye on the bottom line should not be scared away. On the contrary, in some cases KLS may be able to provide superior quality and reliability for a price that is actually somewhat lower than what can be found through services like UberBLACK and LyftSelect, says KLS. It adds that it uses only chauffeurs, not simply drivers, which means they are trained professionals who are able to provide a significantly higher level of service and can act as a sort of concierge in a car. Also, the company says that it prides itself on offering VIP treatment to all of its customers – and that begins when they contact them on their phone lines, which are staffed by real human professionals on a 24/7 basis.
Readers who would like to learn more about all of the outstanding options available from KLS Limousine Service can call 1-877-936-5466 or to check out its web site at https://klsla.com.