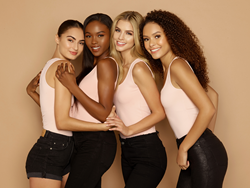 "We're so excited to expand this 4-in-1 franchise with new and exciting products for our PÜR Beauties," said Tisha Thompson, Vice President of Marketing and Innovation at PÜR. "These new additions provide maximum performance for our beauty lovers that are on-the-go."
ATLANTA (PRWEB) April 19, 2018
Spring is the perfect time to reemerge anew and that is exactly what PÜR is doing by releasing 18 new products this season. Globally known as The Complexion Authority, PÜR is hyper-focused on giving its fans their best complexion ever with products that are infused with good-for-you ingredients. Since its inception in 2002, PÜR has sold over 10 million units of the best-selling 4-in-1 Pressed Mineral Powder that serves as a foundation, concealer, powder and SPF. Staying true to its DNA of multipurpose skin-perfecting makeup, PÜR has expanded it's 4-in-1 portfolio to include a foundation stick with 24 shades, primer, lip duo and blush book. Each new product provides quick and simple beauty solutions just in time for the new season.
"We're so excited to expand this 4-in-1 franchise with new and exciting products for our PÜR Beauties," said Tisha Thompson, Vice President of Marketing and Innovation at PÜR. "These new additions provide maximum performance for our beauty lovers that are on-the-go."
Check out PÜR's Spring 2018 collection that is inspired by Ü, created by Ü:

4-in-1 Foundation Stick | Cream-to-Velvet Matte Foundation
PÜR's cream to velvet matte stick creates a flawless illusion that keeps makeup looking fabulous from all angles. This 4-in-1 medium to full coverage foundation comes in 24 shades to compliment, conceal, highlight and contour all skin tones. It is formulated with age-defying Ceretin® Complex and skin-nourishing Energy Complex to help color correct, brighten the appearance of uneven skin tone, retain hydration and reduce the look of pores and dullness.

4-in-1 Correcting Primer | Energize & Rescue with Aloe, Coconut Water & Probiotics
Whether you're prepping for a long day or recovering from a late night, give your skin a pick-me-up with this energizing and skin-nourishing primer. Apply this 4-in-1 Correcting Primer prior to makeup application to awaken the skin and smooth the appearance of the skin for flawless coverage. Formulated with good-for-your-skin ingredients, such as probiotics, aloe, caffeine and coconut water, this primer is the perfect beauty tonic for your best-and worst-skin days.

4-in-1 Blush Book | Blush Palette
With a stunning array of cool to warm pigments, the 4-in-1 Blush Book sculpts, shapes and defines the cheekbones to complete any look. The matte and shimmer formulas are richly pigmented, micronized and buildable, providing a universal blush wardrobe for all skin tones.
Shades: Honest (light pink), Determined (peach), Passionate (bright pink), Loyal (dark mauve)

4-in-1 Lip Duo | Dual-Ended Matte Lipstick + Lip Oil
This quick pro-style, dual-ended lippie gives you fun and functionality with 4-in-1 benefits. This Lip Duo contains a creamy, transfer-resistant, matte lip stain on one end and an ultra-nourishing lip oil treatment enriched with moisturizers like agave and lip-plumping goodness on the other.
8 Shades: Cream of the Crop (dark coral), Newlywed (nude pink), Couple Goals (dark red), Girl Crush (muted pink), Duet (brown), Single 4 Tonight (bright red), Twinzies (brownish red), Double Date (plum)

Shake & Bake | Powder-to-Cream Under Eye Concealer
Conceal and set all in one step! This miraculous concealer melts into the skin to mask imperfections and sets to a smooth, long-lasting, crease-free finish.
Shades: light, medium, dark

Shake & Boost | Powder-to-Cream Multivitamin Booster
Give your concealers, foundations, or skincare a boost of multivitamins with this pore-minimizing powder-to-cream formula that helps to improve the appearance of fine lines, dark spots and uneven complexion. Featuring vitamins B and C, as well as PÜR's age-defying Ceretin® Complex, your skin will be looking better than ever!

Dreamer | 4-Piece Discovery Set
Get that effortless "I woke up like this" look in real life with this little beauty box that contains all your everyday must-haves for a flawless, unfussy look! Take your look from day to night in minutes with the Mini Correcting Primer Prep & Perfect, Bronze & Brighten Cheek Palette, Mini Fully Charged Mascara, Full-Size Lipstick in Muse

Eye Polish Glitters | 5-Piece Eye Polish Kit
Glitter eyeshadow has never been easier! This unique formula has a highly-pigmented base coat and glittery top coat that lasts all day without creasing or fading. With five shades to choose from, there is one to match each of your personalities.
Shades: Stargazer (purple with multicolor glitter), Dreamer (icy blue with glitter), Visionary (gold with glitter), Romantic (white with multicolor glitter), Satin (rose gold shimmer)

Creator | Customizable Pre-Filled Palette
It's all about creating the perfect look and the power is in your hands with this artist-inspired, customizable palette. Curate a makeup wardrobe that's stylish and undeniably yours when you combine our 12, removable eyeshadows and two face powders to highlight and bronze the skin. With this portable palette, you can create endless makeup looks wherever you go!
Shades: architect (golden brown), writer (nude), designer (black pearl), painter (light pink), teacher (taupe), artisan (golden copper), composer (light tan), rock star (crimson), producer (cinnamon), actor (peach), poet (light coral), marketer (yellow gold), bronzer (neutral brown), highlighter (champagne with pink pearl)

Fully Charged Primer | Lash Primer with Magnetic Technology
Powered by magnetic technology, this lash primer adds drama and volume to your natural lashes by stretching them to ultra-luxe lengths. Pairs perfectly with fan favorite Fully Charged Mascara.

Essentials Brush Set | 5 Cruelty-Free Brushes With Bag
Cover, sculpt and blend makeup to perfection with this exclusive collection of cruelty-free makeup brushes. This 5-piece kit includes a Powder Brush, Shadow Brush, Concealer Brush, Crease Brush, and Fan Brush to cover all your essentials. With a soft blend of wavy and straight synthetic fibers, each brush is designed to pick up and distribute makeup evenly and flawlessly without fallout. This set comes with a metallic silver travel makeup bag for easy storage on-the-go

Pillow Blend Collection | 4-Piece Silicone Applicator Tools
Designed to take your application of concealers, contour creams, moisturizers and foundations to the next level, these oil-resistant, silicone applicators allow you to smooth on liquid or cream products flawlessly while using less makeup. Plus, cleanup is quick and easy, as you won't have to wait for your brushes to dry.

Best of PÜR | 4-Piece Try-Me Kit (Web Exclusive)
So much flawless in such a little box. Beauty editors and influencers are raving about this curated, 4-piece kit that includes travel-size essentials to keep you looking flawless on-the-go. Kit includes: Mini Soak It Up Intense Hydrating Moisturizer, Mini Correcting Primer Prep & Perfect, Mini Mineral Glow Bronzing Powder, Mini Fully Charged Mascara

On-The-Go Eyeshadow Palettes | Day + Night Eye Collection
Transform your look on-the-go with two, pocket-sized palettes that take your look from desk to date night with eight shadows for day and eight shadows for night. They're small enough to fit in a clutch and they're perfect for travel, too!
Day palette shades: Office (pink), Email (warm tan), Busy (lavender), Voicemail (lilac), Meeting (light pink), Office (tan), Gossip (purple), Late (dark brown)
Night palette shades: Midnight (black), Exclusive (emerald), Cocktail (gold), Flirt (magenta), Text (warm mauve), Club (pinky nude), VIP (light brown), RSVP (warm sand)

Visionary | 12-Piece Eyeshadow Palette
Rise and grind, beautiful people! Be the visionary that you are and go for the goal with this carefully-selected, 12-piece palette that helps you keep your eye on the prize while looking your best. This palette features shades that seamlessly work together so you can spend more time on your hustle and less time on your makeup.
Shades: Leader (gold), Girl Boss (soft pink shimmer), Dreamer (peach shimmer), Optimist (magenta), Role Model (mauve), Icon (bright pink), Idealist (matte peach), Innovator (champagne shimmer), Rebel (dark rose), Pioneer (melon), CEO (bronze shimmer), Tycoon (chocolate)

4-in-1 Lip Toppers | Glitter Lip Enhancers
Seal your lips with high-shine, glittery lip gloss. The pearlescent and glitter shades pair with your favorite lipstick to take your look from daytime chic to dancing after dark. This ingenious formula is featherlight and keeps lips kissable smooth.
Shades: Lady (pink glitter), Queen (chocolate glitter), Empress (champagne glitter), Duchess (yellow gold glitter)

Translucent Loose Powder | Setting Powder with Built-In Sponge
Set it and don't sweat it with this microfine setting powder that helps prevent your makeup from caking and creasing. The light, fluffy powder applies easily without making a mess with the help of the built-in sponge. Just shake it, tap it and sweep the powder onto the skin and the translucent matte finish will seamlessly blend without settling into fine lines or pores. The special mineralized formula helps blur the look of imperfections that may still peak through your foundation and acts like an invisible veil holding your look in place.

Purple Pore Punisher | Pore-Tightening Mask
Are your pores clogged from pollution, dead skin cells and daily stress? It's time to detoxify skin and purge impurities with the Purple Pore Punisher. This mask is formulated with charcoal, which helps to rid skin of debris that may be dulling your complexion, while the witch hazel helps soothe skin and tighten pores without stripping your skin of hydration. Give your skin a clean slate with an invigorating mask that unlocks a softer, smoother and healthier-looking complexion.
ABOUT PÜR
About PÜR: Regarded as "The Complexion Authority™, PÜR™ offers women of all ages, races and skin types high-performance beauty solutions and skin-loving products. By focusing as much on the ingredients left out of formulas as included, PÜR sets the standard for a better kind of beauty. PÜR is proud to be cruelty free, paraben free, gluten free, talc free, petrolatum free, mineral oil free, and SLS free. Learn more at http://www.purcosmetics.com