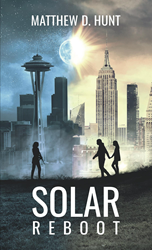 "This tale's sharp focus on imperfect but appealing characters sets it apart from standard genre fare." -- Kirkus Reviews
SEATTLE (PRWEB) April 26, 2018
Matthew's debut novel, Solar Reboot, has just won a Bronze IPPY award for Science Fiction. Four years ago, the novel was originally a spec idea for a TV series, but after getting negative responses such as "female character is too strong, people won't like her," and "the male character isn't strong enough…" Matthew was informed that if he were to make the female character softer and more vulnerable, and the male character more "macho" and stronger, that executives would find the story more appealing. Matthew refused to make those changes and decided to turn the spec idea into the book it is now, in the belief that people want more realistic, less stereotypical characters.
Matthew's resulting novel has many 5 star reviews and a glowing review from Kirkus. Solar Reboot was a featured Indie book in the March 1st 2018 Kirkus Review Magazine; with this latest award it has proven itself a winner and a must-read novel.
Matthew started his entertainment career not as an author, but as a filmmaker and producer. Matthew has also just been nominated for a 2018 NW Regional Emmy. You can see his film history on IMDb under Matthew D. Hunt.