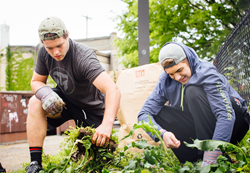 "By bringing communities together to serve in honor of our fallen heroes, we are not just keeping their legacy alive, we are passing their values along to the next generation of leaders."
(PRWEB) April 18, 2018
Operation Legacy projects aim to engage veterans, families of the fallen, and civilians alike, by activating them to lead and serve others in their communities. Americans across the country are invited to volunteer with TMF for Operation Legacy, as a way to honor the past and build the future, while exemplifying the strength of America's national character. By uniting the community for a common cause through service, volunteers live the "If Not Me, Then Who…" mantra of TMF and spearhead a movement of character, leadership, and selfless service.
"Operation Legacy project leaders and volunteers exemplify the strength of America's national character, by bringing together veterans, families of the fallen, and inspired civilians to unite for the common cause of making a positive impact in their own communities," says Amy Looney, wife of Lt. (SEAL) Brendan Looney and Vice President of TMF. "By bringing communities together to serve in honor of our fallen heroes, we are not just keeping their legacy alive, we are passing their values along to the next generation of leaders."
Projects have been organized by community members, who serve as local volunteer project leaders for TMF. More than 50 cities will be hosting projects, including: Atlanta, Boston, Dallas-Fort Worth, Houston, New York City, Philadelphia, Raleigh, San Diego, and more. Those interested in volunteering for this upcoming project can register or learn more information by visiting http://www.travismanion.org/oplegacy. Those unable to attend this project can also start their own project by signing up as a Virtual Volunteer.
About Travis Manion Foundation
Travis Manion Foundation (TMF) empowers veterans and families of fallen heroes to develop character in future generations. In 2007, 1st Lt. Travis Manion (USMC) was killed in Iraq while saving his wounded teammates. Today, Travis' legacy lives on in the words he spoke before leaving for his final deployment, "If Not Me, Then Who..." Guided by this mantra, veterans continue their service, develop strong relationships with their communities, and thrive in their post-military lives. As a result, communities prosper and the character of our nation's heroes live on in the next generation.
The story of 1st Lt. Travis Manion and his Naval Academy brother Lt. (SEAL) Brendan Looney have been publicized in the book Brothers Forever, and additional information about the Foundation can be found at http://www.travismanion.org.