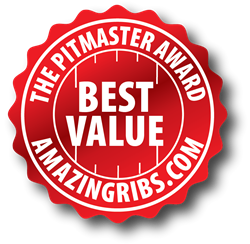 Our goal at AmazingRibs.com is to help consumers find the perfect smoker or grill thanks to hundreds of unbiased reviews, including our choices for 2018's best value smokers and grills.
BROOKFIELD, Ill. (PRWEB) April 18, 2018
Just in time for barbecue and grilling season, AmazingRibs.com, the world's largest and most popular outdoor cooking resource, has announced the "2018 AmazingRibs.com Pitmaster Awards for Best Value Grills & Smokers."
Now in their 6th year, the Pitmaster Awards (previously called Top Ten Awards) are compiled by Max Good, the only person in the world whose full time job is testing, researching, reviewing, and rating grills and smokers. For his reviews, Good measures temperatures, slams lids, turns dials, studies warranties, kicks casters, cooks a lot of food, and considers look, feel, functionality, durability, and price. Suppliers are never charged to have products reviewed.
This year's selections are made from more than 500 cookers from 190 manufacturers in the world's largest database of outdoor cooker ratings and reviews that Good maintains. The following are the winners in five key categories, arranged from lowest price point to highest. For more information on each grill, visit https://amazingribs.com/ratings-reviews-and-buying-guides/pitmaster-awards-best-values.
BEST VALUE CHARCOAL GRILLS

Weber Premium 22" Charcoal Grill, ARV $159
Napoleon NK22CK-L Charcoal Kettle Grill, ARV $189
Portable Kitchen Grill (a.k.a. PK Grill), ARV $369 with shipping included
Napoleon NK22CK-C Charcoal Kettle Grill, ARV $399
Dancook 1900 Charcoal Grill, ARV $450
Weber Performer Deluxe 22" Charcoal Grill, ARV $499
Portable Kitchen PK360 Grill and Smoker, ARV $870
Napoleon Mirage PRO605CSS Charcoal Grill, ARV $1,299
BEST VALUE GAS GRILLS

Broil-Mate 165154 LP Gas Grill, ARV $199
Broil King Signet 320, ARV $399
Char-Broil Commercial Stainless/Black 3-Burner Gas Grill, ARV $399
Weber Spirit II E-310 3-Burner, ARV $599
Napoleon Rogue R425SIB, ARV $899
Saber 500 Cast Black, ARV $999
Modern Home Products WNK4, ARV $1,044
Napoleon Prestige P500RSIB, ARV $1,400
BEST VALUE BACKYARD SMOKERS

Char-Broil Vertical Gas Smoker, ARV $200
Pit Barrel Cooker, ARV $299
Camp Chef Smoke Vault 24", ARV $344
Weber Smokey Mountain Cooker Smoker 18", ARV $349
Vision Professional S Series Kamado, ARV $799
Backwoods Smoker Chubby, ARV $1,099
Kamado Joe Classic II 18", ARV $1,200
Karubecue C-60 Pit, ARV $1,450
MAK 1 Star General Pellet Grill, ARV $1,500
Yoder Loaded Wichita 20" Smoker, ARV $1,894
BEST VALUE PORTABLE GRILLS

Weber Smokey Joe Portable Charcoal Grills, ARV $35 to $45
Can Cooker Original, ARV $90
Char-Broil Grill2Go X200, ARV $150
Blackstone 36" Griddle Cooking System, ARV $300
Pellet Smoker, ARV $399
Napoleon TravelQ 285X Portable Gas Grill with Cart, ARV $399
Meadow Creek BBQ26 Charcoal Grill, ARV $435
Broil King Keg 5000, ARV $899
BEST VALUE COMBO COOKER

Meadow Creek PR36, ARV $755
Primo Oval Junior, ARV $832
Camp Chef Woodwind Pellet Smoker With Sear Box, ARV $899
The Good-One Open Range, ARV $1,099
Hasty-Bake Gourmet 256 Dual Finish Charcoal Grill, ARV $1,399
Lang 36" Hybrid Patio Model, ARV $1,595
Weber Summit Charcoal Grill, ARV $1,699
M Grill M1 Charcoal Grill and Smoker, ARV $1,995
Commenting on this year's list, AmazingRibs.com's Vice President of Product Reviews & Keeper of the Flame Max Good stated, "Choosing a smoker or grill can be a daunting task for any backyard cooking enthusiast as they try to weed through the countless options available to them. At AmazingRibs.com, our goal is to help simplify the process by providing hundreds of unbiased reviews, including our newly unveiled selections for 2018's best value smokers and grills."
ABOUT AMAZINGRIBS.COM
AmazingRibs.com is by far the leading resource for BBQ and grilling info with more than 2,000 pages of product reviews, recipes, science-based cooking techniques, mythbusting, tips, tricks, and community. In 2017, the site enjoyed more than 37 million pageviews, making it one of the most popular food sites of any kind. It boasts a team of 20 authorities and tastemakers, all devoted to educating backyard cooks around the globe. They don't do sponsored articles, paid articles, or accept junkets. Their advertising is sold by third party ad networks.