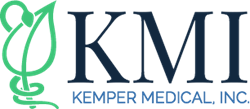 Give Kemper Medical a try. We would love the opportunity to earn your business. - Greg Kemper, President
MEDFORD, Ore. (PRWEB) April 18, 2018
Kemper Medical, Inc. (KMI), an Oregon based medical supply company, is excited to announce that they have added a new line of radiation glasses from Oakley to their range of products. Oakley's radiation glasses are a high-quality option that are highly sought after in the industry, and they are now available through one of the industry's most trusted medical supply distributors.
Along with the new line of Oakley radiation glasses, KMI prides itself on offering the best medical supply products — including radiation glasses, radiation aprons and gloves, and other medical office equipment — at the best prices. Word of their great prices has gotten around the medical industry, and KMI sold more radiation glasses in 2017 than any other company online.
It's not just customers who are seeing the benefits of working with KMI either. According to the radiation glasses manufacturers they work with, KMI is "widely known and recognized throughout the medical industry for offering the best quality, fastest product fulfillment, and least expensive prices online."
Kemper Medical is a leading supplier of radiation protection eyewear for medical professionals that work in the Radiology field. The glasses are necessary because the radiation these highly trained professionals work with can severely damage many different parts of the eye including the iris, the white of the eye, the mucus membrane that covers the front of the eye, and the small blood vessels inside of the eye. And the lens of the eye is at particularly high risk of damage from radiation present during the use of radiation emitting imaging equipment including x-rays, digital x-rays, CT image scanners, and interventional radiology equipment.
Surprisingly, most medical personnel is at relatively low risk of injury from direct radiation exposure — known as "primary beam radiation." The higher risk of injury actually comes from what is called "scatter radiation." Scatter radiation is any radiation that bounces off of medical surfaces and/or patients' bodies in the exam room, creating a larger exposure area than the primary beam radiation is capable of.
Because radiation can bounce multiple times off of multiple surfaces, being out of line of sight from the imaging equipment isn't enough to protect an equipment operator's eyes. That's why it's so important for radiology technicians — and doctors and nurses who work directly with radiation equipment on a regular basis — to wear high-quality protective eyewear any time they are working with radiation emitting equipment.
To help these medical professionals stay safe, Kemper Medical has chosen to offer the highest quality products at affordable prices. This allows them to get the protection they need without worrying about exorbitant prices. By offering the best products at reasonable prices, KMI helps make sure that everyone can afford to be as safe as possible when using radiation emitting equipment.
About Kemper Medical: Kemper Medical, Inc. is a worldwide distributor of premium medical supplies. The company offers a wide range of products from top manufacturers. Greg Kemper, a former medical technician himself, founded the company in 2008 in order to help manufacturers better distribute their products on a local level. They started working with just a single manufacturer and have grown into a major distributor for 24 major manufacturers. The company is constantly striving to add new, high-quality product lines to their offerings. KMI is known throughout the medical industry for offering top quality products from leading companies at affordable prices, and all radiation glasses ordered from their website ship free.